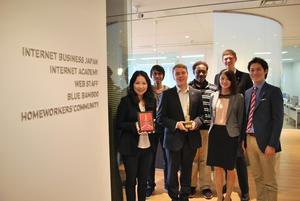 2015年度 就活アワード受賞
われわれウェブスタッフは、「インターネット・ビジネス・ジャパン」(IBJ)のグループ会社です。IBJグループは、「世界最先端のIT技術」と「グローバルに通用するIT人材」を軸に、「制作」「教育」「人材サービス」の3つのビジネスを展開しています。グループ内の3つの事業を相互に活用する独自のトライアングルビジネスモデルで、お客様にとって価値あるサービスを提供しながら、ビジネスチャンスを拡大しています。

◆Webコンテンツの最高品質ブランド「ITRA株式会社」
デザインから大規模システム開発まで、Webコンテンツ全般を手がけるWeb制作会社です。東京藝術大学や気象庁をはじめとする公的機関からGEグループまで幅広くそして、グローバルに、最高品質の実績を続々と重ねています。

◆日本初のWeb専門スクール「インターネット・アカデミー」
インターネット・アカデミーは1995年9月に開校した、Web制作技術者を育成する日本で初めてのWeb専門の教
育機関です。2000年には、Web業界において技術の標準化を行う世界最高位の団体「W3C(World Wide Web
Consortium)」メンバーにも日本の教育機関としてはじめて認定されました。

◆日本初のWeb専門人材サービス「ウェブスタッフ株式会社」
日本初のインターネット・Web分野に特化した人材サービス会社です。人材派遣、人材紹介、コンサルティング、アウトソーシングをはじめ、技術と人材のトータルソリューションを提供しています。
インターネット・アカデミーの卒業生を中心とした業界最大級の登録パートナーは各クライアントから好評を博し、グループ企業のメリットを活かした専門知識と高いコンサルティング力で、これまで多くの転職者と企業をつないできました。

-----------------------------------------------------------------------------------------

WebStaff is part of the Internet Business Japan (IBJ) group of companies, operating in a unique Triangle Business Model. The other companies included in the group are Internet Academy, Japan's first school of Web technologies and the first educational institution in Japan to be certified with the W3C; and ITRA, an in-house Web production and consultancy agency. WebStaff also has a subsidiary company, Home Workers' Community, specialising in outsourcing of work to a community of highly-skilled freelancers.

This model, and the exchange of information and know-how that proceeds, allows our company to expand around the globe. We are present in 6 cities in Japan (Tokyo, Osaka, Kyoto, Fukuoka, Sapporo, and Sendai, with Kanezawa branch opening soon) and 3 other countries around the globe (India [Bangalore and Bhilai], China [Dalian], and the USA [New York and Boston], with a UK [London] branch opening in April).

All of this is supported by work from our strong international team, who make up about 30% of our employees. They come from 7 different countries and are all fluent in Japanese in English, ready to assist you whenever you want.