What is the Daijob Go Global Career Fair?
An event connecting job-seekers and companies, hosted by Daijob.com, Japan`s largest jobsite for global minded talents.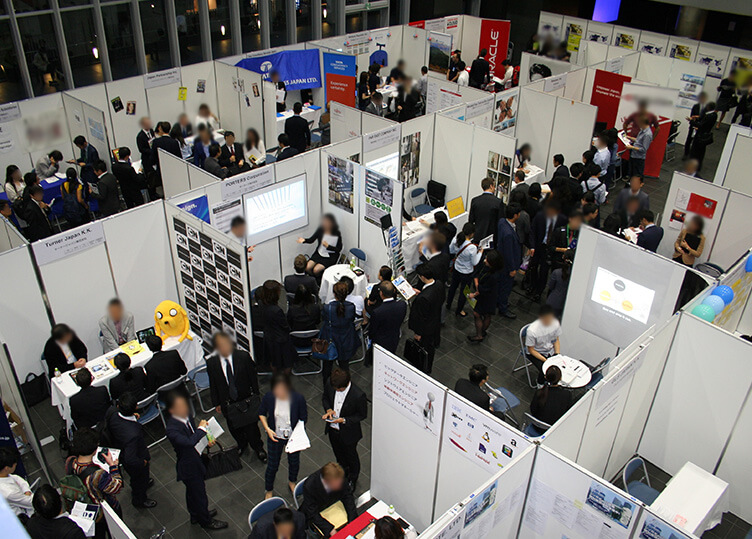 It is a special day connecting bilingual talents with companies. Daijob.com specializes in the career change for bilingual and global talents, which is the reason this event is possible.
Talk to HR Representatives and Employees directly!

Companies of various industries participate this event. Also, companies that are not well known in Japan attends as well. It will be a chance to meet companies with a promising future!

A chance to obtain information about global companies and English required jobs!

By speaking with the HR Representative directly, it is possible to get an idea of the company atmosphere and information that is not mentioned on the corporate website. It is also possible to clarify any concerns or questions that is not possible to ask during interviews, which will help you prepare for the employment process.
Seminars
17:30-18:20

How one can prepare to work for the World Bank

Ms.Tomoko Hirai

18:40-19:30

Practical Tips to Develop Your Skills & 3 Principles for Finding Your True Career

Mr.Kenya Yoshino / Mr.Sven Van Stichel

19:50-20:40

Japanese women and career

Ms.Katsuki Roppongi
Business School (MBA Programs) & Visa Consultation Corner
Business School (MBA Programs)



Graduate School of Management, GLOBIS University

GLOBIS University is Japan's largest business school, offering a Master of Business Administration (MBA) program in the heart of Tokyo and online.

1) Two-year Part-time MBA
Flexible weekday and weekend schedule, allowing students to earn their MBA while continuing their job

2) Two-year Online MBA
Live, interactive courses with students from around the world

3) 1-Year Full-time MBA
Accelerated program with full career support, including a 3-month internship

GLOBIS also offers a unique Pre-MBA program, allowing students to take courses a-la-carte before enrolling in the MBA program of their choice.

Visa Consultation Corner

Japanese working visas can be nigh on incomprehensible to the foreign student.
Solve your questions by speaking with members of ACROSEED Co., Ltd. at our Visa Consultation Corner.
Event Outline
32nd Daijob Go Global Career Fair Joint Information Session of Foreign-Affiliated and Global Companies.
【 Date 】 2017.10.27[Fri.] 16:30 - 21:00 (Final Entry 20:30) [Free to enter・Freedom of Access]
【 Venue 】 AKIBA_SQUARE Akihabara UDX 2F Map
【Participants】 Bilingual Job Seekers (for those already employed & new graduates alike)
Attendees Usually Have Experience With:
・Foreign Affiliated Companies ・Foreign Branches of Domestic Companies ・International Divisions ・Studying Abroad ・Foreign Job Hunters and/or Students hoping to work using their Japanese ability.