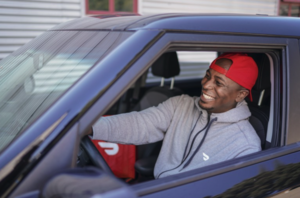 -About us
A food delivery service that connects users, restaurants, and delivery staff. With the expansion of delivery demand, various companies are expanding. Meanwhile, on June 9, 2021, we started the service in Japan. DoorDash is a technology company founded in 2013 that connects cities and people. Service areas are over 4,000 cities in the United States, Canada and Australia. In the United States, it holds the top position in the industry with a 56% share, overtaking competitors. (* 1) Listed on the New York Stock Exchange in December last year, with a market capitalization of approximately 7 trillion yen. Not only food, but also daily necessities and over-the-counter drugs are delivered, and we are building a brand in the United States as a "service that delivers anything to your home." Japan was selected as the third country for expanding services globally. We aim to realize growth in the United States in Japan and become a presence that everyone knows. * 1) As of April 2021 / Bloomberg Second Measure Survey Report
-A unique mechanism that supports growth
One of the reasons for our growth is a mechanism called "Storefront." This is proprietary software that allows you to add a delivery system to the sites and apps of member stores in the form of function expansion, and it is a strength that other companies do not have that it can be introduced quickly and smoothly. Since the order history can also be managed on the member store side, it can be linked to marketing activities based on data on site visitors. The essence of our business is not only to open up delivery sales channels, but also to provide management support using the data obtained from them. For example, a restaurant in a difficult city opened up a new sales channel by joining DoorDash, and when the menu was reviewed based on order data, a new customer base was acquired. There are many such cases, and our corporate mission is to grow the local economy through business support.
-Value localization that matches the culture unique to Japan Given
the history of our expansion into Canada and Australia, we believe that localization that matches that country is important. Therefore, we focused on creating a model while learning about the unique culture of Japan by limiting the cities in which we are expanding. The reason we chose Sendai as our first destination is that it is a core city with a population of over 1 million, but it has the characteristics of both urban and suburban areas, and its delivery penetration rate is low. Utilizing the know-how here, we will gradually expand to other cities while understanding the culture unique to the region. And we will create DoorDash, which is unique to Japan, with Japanese members. Our job is not to popularize food delivery, but to connect all products and people with the power of technology. We aim to create a new market for that purpose and to serve as a bridge for the local economy.
-What does it mean to join a global startup ?
Why do you work? Reward? position? Influential work? Growth as a person? With DoorDash, you might get a lot of it. Currently, people with various backgrounds such as Google, Amazon, and McKinsey are gathering in sympathy with our vision and plans in Japan. Many members have top-class achievements in each industry and field, and there is a lot of inspiration and learning through daily communication. Also, as the company grows, new positions will be created. Some of the members hired this time may advance their careers to key positions. A fast-paced, yet open-minded period full of opportunities. It is a privilege only for starting members to experience it. And the experience of participating in the expansion of the No. 1 company in the United States into Japan should be a great career in life.