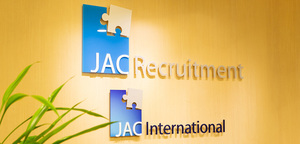 JAC Recruitment, listed on the first section of the Tokyo Stock Exchange, is one of the very few recruitment consultancies providing specialised services for medium-to-high-income job positions such as specialists, middle management positions and executives.
The Group has over 47 years of history since its foundation in 1975 in the United Kingdom. Its Japanese subsidiary was opened in 1988 and has been driving the recruitment industry in Japan for over 30 years. This is absolutely the result of warm support from our stakeholders.
With our global network operating across 11 countries, we are contributing to the growth of our client companies' global business expansions by providing services for Japanese, foreign capitalized and local company clients. To satisfy the recent increasing demand of talent in the latest technology areas such as DX, IoT, AI and robots, we are strengthening digital-related recruitment services through our brand "JAC Digital" as a company-wide project.
In 2020, we welcomed Vantage Point K. K. to the group. Vantage Point has a successful history of providing recruitment services for consulting firms and multinational financial institutions. Maximizing the synergy with Vantage Point will enable us to provide even higher quality services for our customers. Furthermore, from the end of 2020, we have started to provide two additional recruitment-related services: "Interim Management Solutions (IMS)" specializing in solving management issues with the aim of responding to the diverse work style needs of high-skilled personnel, and "Recruitment Process Optimisation (RPO)" to solve corporate recruitment issues.
In the human resources services industry, it is often said that to deliver high-quality consultation while simultaneously expanding the scale of the company is difficult. However, JAC has been able to achieve this and has contributed to the development of industry-leading professionals. With our subsidiary companies, JAC International, specialized in foreign company clients, and CC Consulting, a jobsite dedicated to bilingual talents. JAC Group all work together to comprehensively serve our customers' varied needs.
Under the influence of the Covid-19 pandemic, companies have been required to change and reform, while professionals working across most industries have also been forced to adapt. Each of our consultants share in the mission of "Tsunagu (which means "to link" or "to continue") based on our corporate "Philosophy (Freedom & Discipline / Fairness) & Policy (Speed / Sincerity / Attitude)". They pay a role as professional consultants in linking job seekers to company growth, which in turn leads to economic and social growth. We believe that it is our mission to connect people, businesses and the economy and contribute to their growth under this unchanging philosophy, even under difficult economic circumstances and employment situations.
All of our 1,400 staff around the world will continue aiming to gain trust and support by our customers by improving our service quality and company scale even further.
We look forward to your continued support and patronage in the future.
Co-Founder, Chairman and CEO
Hiromi Tazaki