We are a company that has been under the umbrella of NTT Communications since 2019.
Originally a global company with strengths in South Africa and Europe
It was a Japanese corporation of Dimention Data.

The shape has not changed since joining the NTT Group in 2010,
In 2019, based on the NTT Group's group business strategy
It is now under the umbrella of NTT Communications.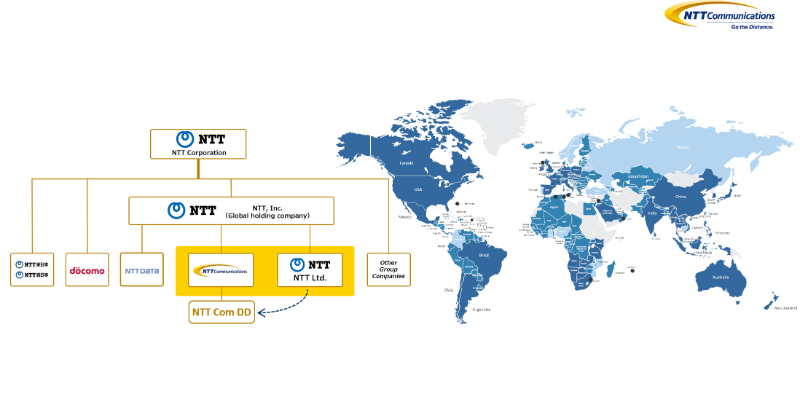 About Dimension Data (currently NTT Ltd.)
NTT Ltd. is a world-leading technology service company.
As a global ICT provider, in diverse and dynamic workplaces across 57 countries
With over 40,000 people active, we serve more than 200 countries and territories.
Dimension Data was born in South Africa in 1983.
Dimension Data, a provider of global IT solutions
We have been developing business as a Japanese corporation since 1997.
Joined the NTT Group in Japan by TOB in 2010.

Became a member of NTT Communications Group in July 2019
The company name was changed to NTT Com DD Co., Ltd., but it has been about 22 years since the business started.
We have been working on the construction and operation of IT infrastructure that meets the needs of our customers.
In particular, overseas customers who are expanding their business in Japan, domestic customers who are expanding their business overseas, etc.
For customers expanding their business globally, together with NTT Group companies around the world
Such as Cisco Systems and Dell Technologies
In close cooperation with manufacturers that continue to provide the latest IT technology,
We provide one-stop service globally.