Interview with the current employees!
UK Employee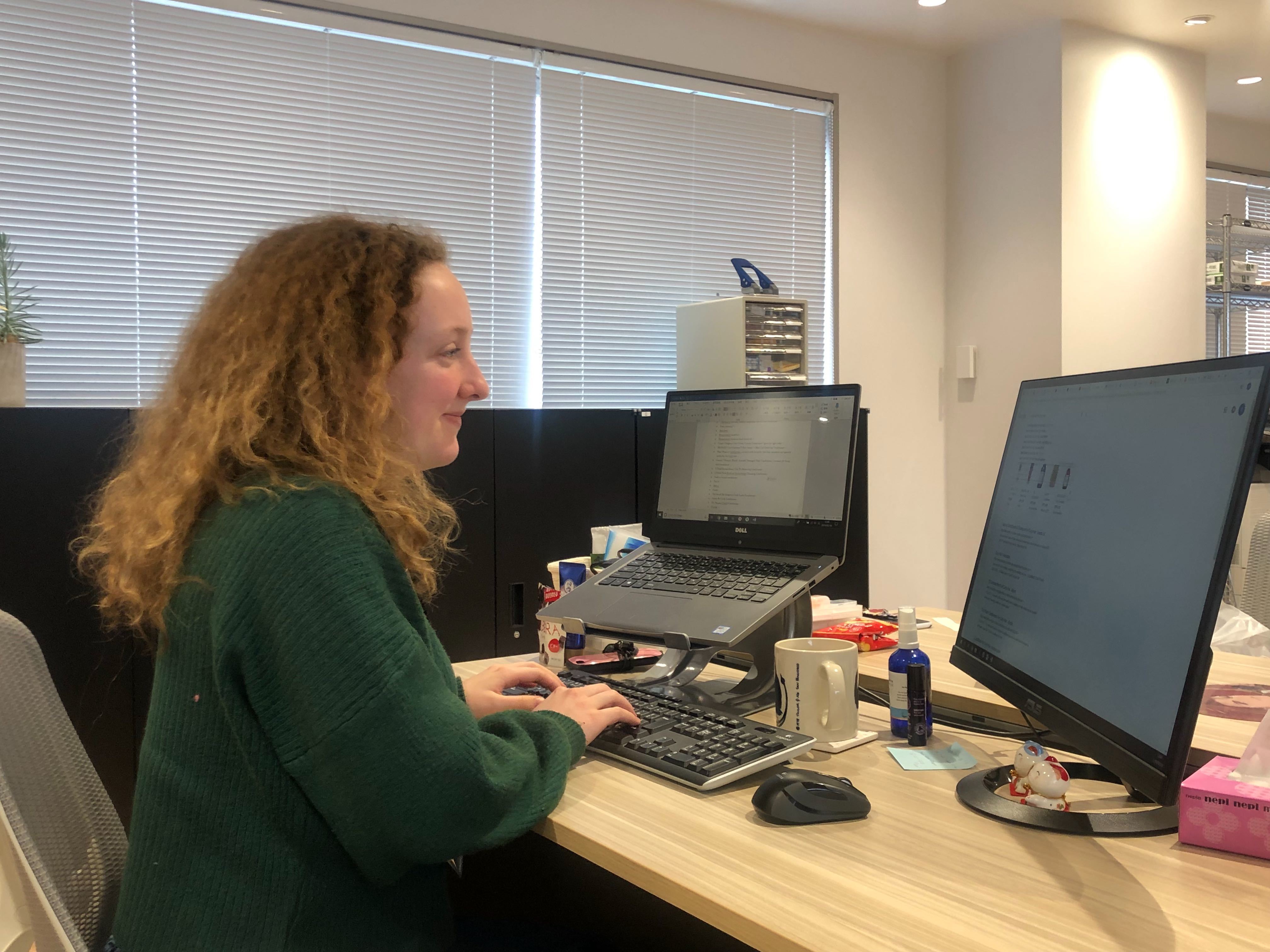 Q1.Please tell us about your work.
Since I was the first member of the UK team I had to create an English website from scratch.
Until now I have been working as a writer: writing articles, researching keywords and creating titles. However, as we have recently started hiring freelance writers, I am also working as an editor.
Q2.How was it starting your work without experience in the industry?
There was no problem with me not having any experience.
Everyone was very kind and politely explained everything to me.
Of course, I had a lot of questions every day, but my managers always helped me.
I started with smaller tasks and my workload increased gradually, which helped me work with confidence.
Q3. Tell us about what motivates you at work and what skills were you able to gain.
Until now I have been mainly writing articles so naturally, my writing abilities have gotten much better. I have learned how to write easy-to-read and fun articles in English. As I also work with SEO strategies and keywords search I gained a lot of knowledge about Internet marketing and Web media.
Working together with my colleagues I was able to work on my communication, Japanese and translation skills.
From now on I will work on my leadership and editing skills.
It really makes me motivated when I realize how much you can learn in just one month.
I also love seeing the articles that I worked hard on published on our website.
Q4. Please tell us about the company atmosphere and workstyle.
Everyone is always focused on their tasks and we work in a peaceful atmosphere,
but if I have any questions I can ask anytime.
Personally, I feel that it is a comfortable workplace where I can focus on my work.
Even though I was an inexperienced new graduate, everyone was very respectful towards me
Since there is a lot of foreign employees as well, as a foreigner myself, I feel very comfortable.
Q5. Is there anything you would like to say to the candidates?
To everyone who loves reading and writing articles, is interested in Web Media, wants to work in a diverse company, wants to use both Japanese and their native language for work, would like working in a new venture company rather than a traditional big one, wants to work with young colleagues, wishes to keep their own working style and wants to do their best to achieve their personal goals: Let's work together!
You can meet with all kinds of people, learn various skills and work in a fun company where you will feel motivated every day!
American Employee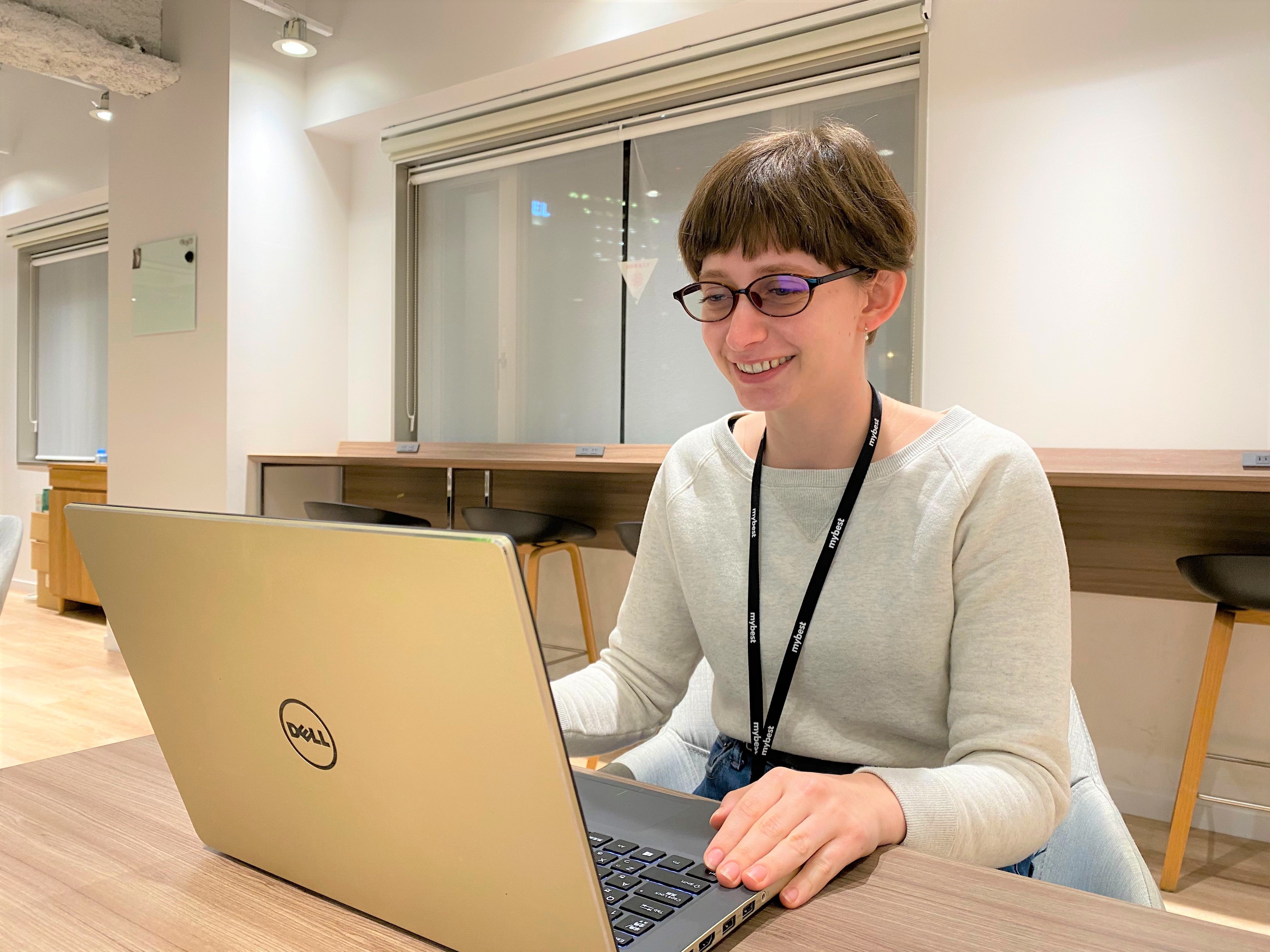 Q1. Please tell us about your work.
To get used to the work you first start by using our management tool and working with localized texts. It varies from person to person but after about 3-6 months you will also be entrusted with the task of hiring and training external writers. From there, after you understand how the mybest articles are created, you can move on to editing the content while receiving the feedback from your team leader. After being in charge fo the media for about one year you will be able to analyze the performance of the site by various tools and create daily/weekly reports.
Q3. Tell us about what motivates you at work and what skills were you able to gain.
Even though the teams are divided by countries and the details of everyone's work are different, we all do the same work within the company so it is easy to discuss matters with other teams as well. It is great to be able to share opinions with people from various countries. I was also happy to be able to use my translation and writing skills.
Q4. Please tell us about the company atmosphere and workstyle.
The atmosphere is really friendly and open. We can all communicate regardless of our age or nationality. As the language widely used in the company is not English you can also brush-up your Japanese skills and feel like you are working in a Japanese company.
Q5. Is there anything you would like to say to the candidates?
I believe that this job is perfect for candidates with a positive attitude who can take their own initiative and that is the kind of people I would like to work with. Localization is an important task so it is crucial to be able to say your opinion. For that reason, this job is great for those who truly understand their own countries. We welcome candidates interested in writing and media operations!