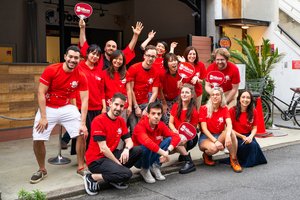 Go! Go! World is the leading study abroad agency for Japan and South Korea, with over 1500 students per year, coming from over 70 different countries. We are a fast growing company with about 55 employees from 24 different countries and offices in Tokyo, Seoul and Hong Kong. Our marketing campaigns usually reach people in 7 different languages (English, Spanish, French, German, Italian, Swedish and Portuguese).

The Tokyo office has a vibrant and very dynamic work environment, startup style. We move fast empowering our employees with the ability to take decisions and managing their budget. On top of a great work environment, we offer benefits like flexible working hours, no dress-code and unlimited sick leave.

The Global Head of Marketing will coordinate the marketing campaigns for the 4 main company brands (Go! Go! Nihon, Go! Go! Hanguk, Go! Go! Espana and Studytrip.com) managing the creative team (video, design, writers and community management). 80% of our Markerting is online (social media, blog, google/facebook ads) and 20% is offline (conventions abroad and presentation in universities and language schools abroad).

Our brand new Ikebukuro office is ideal for creative and marketing professionals, with several areas available to the team, including free-address areas, heigh adjustable desks, refresh area, large lunch area, and a filming studio.