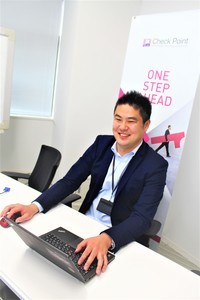 Q. Please tell us what you are doing now.
I am in charge of channel sales. My main job is to develop new businesses and interact with existing partner companies.

Q. Why did you join this company?
I used to work for a Japanese company, and I joined the company in hopes of stepping up to a multinational company.

Q. How often do you use English?
I use English almost every day not only for emails but also for conference calls when communicating with the Israeli headquarters.
Q. Please tell us about the working style and atmosphere of your department.
Rather than sitting and waiting for work, many people find their own work proactively. In that respect, I find my job more rewarding than simply doing my job as instructed.
Q. Do you have the opportunity to visit overseas for work?
There is. We visit the Israel headquarters once a year for the annual sales kick-off along with our partners, as well as for the sales training.
*International travel is now on hold due to the COVID-19 pandemic
Q. Can you give a message to job seekers?
There are no particular restrictions on what you can do, so I think it is a company where you can raise your hand independently, making it a very good company for people who prefer working independently.
In addition, the telework environment is in place. Even if you are not in the office, you can work at home or on the go, so one of the attractive points is that you can spend your time meaningfully especially for salespeople who often go out.
Challenge is an constant, but it is a wonderful company for those who are aiming for career advancement. Let's work together!