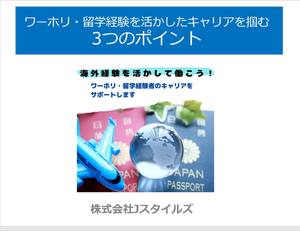 The unfortunate reality is that very few people, even if they have gained valuable overseas experience through working holidays or studying abroad, are able to make use of it in their work after returning to their home countries.
We are
● How should I convey the strengths of those who have worked holiday / study abroad experience to companies?
●What kind of jobs can you make use of your working holiday/study abroad experience?
What kind of plan do you have to realize your desired career?
Professional career consultants will support you from the basics of job hunting and career building that make use of your overseas experience.
If you are confident in your career, of course, but if you have a short career or lack language skills, please feel free to consult with an experienced consultant!