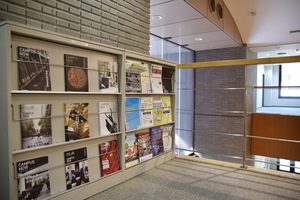 Interview with staff currently working in the Office of Information & Public Relations


・ Reason for wanting to work at Waseda University and the Office of Information & Public Relations
I used to work as a university employee in my previous job, but I decided to join Waseda because I wanted to work at a larger scale university to take on bigger challenges and develop my skills further.


・What is a typical day like in the office?
The work flow is a little different every day. However, each member has their own duties, and in my case, one of my main tasks is to manage SNS schedules and the University's English homepage. In addition, other departments ask for English checks or translation work, so there are many situations where you can make the most of your language skills.


・ What is something essential for working as a university employee at a Japanese university?
There are many important things to be aware of, but Japanese communication skills, both spoken and written (email) is extremely important.


・ What is rewarding about your job?
I don't personally have study abroad experience in Japan, but I am happy that I can help be a bridge for international students to learn about and hopeful come to Waseda University to study. This is the most rewarding part of the job for me.


・ Message to applicants
Working at a university is often difficult due to a lot of systems, programs, and technical terms specific to universities, but it is an environment where it is easy to ask for help if you need it. Team work is valued, so everyone wants to help out!