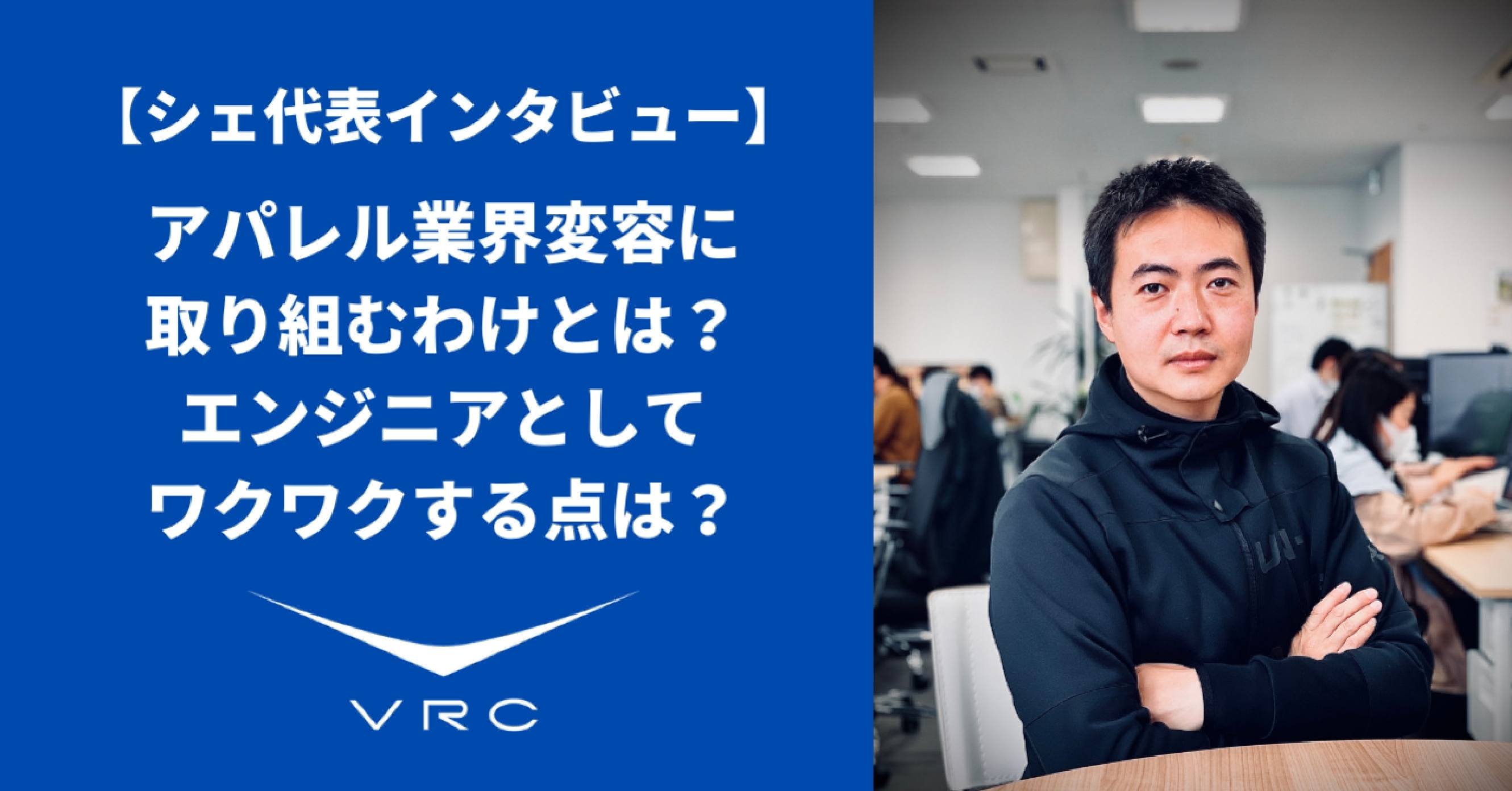 --This time, I would like to ask Mr. She to talk about what VRC is working on for the apparel industry from an engineer's perspective. First of all, what does the apparel industry look like from the perspective of Mr. She?
She:
Well, as for the apparel industry, I would like to talk about my own past experiences.

When I was shopping for clothes online as an end user, I was worried about the size and appearance of my clothes, but I received something different from what I expected, so I returned it. That's why I gave up buying clothes online.
When I was shopping online, I thought it would be nice if I could understand the appearance and size of trying on at the store before buying online. Such a bitter experience is also the reason for our founding.
Looking at the return rate and exchange rate when shopping online, it is a few percent in Japan, but it is as high as several tens of percent overseas, and the more you check it, the more you need to improve the purchasing experience of end users. I felt there was. In addition to that , I felt that needs are increasing as an issue for the entire apparel industry.
In the apparel industry, there are problems such as mass production and mass disposal that are not fully utilized when producing things, and it is said that tens of percent of waste is generated. It has also been announced that the apparel industry is second only to the oil industry as an environmentally unfriendly industry.

With that in mind, reducing waste is a problem not only for the consumer society but for the entire society .
In order to change the entire industry, it is necessary to change all processes, and I hope that VRC can contribute to that, which is also a management policy.
I feel that changing is also a trend in the industry.


--- Well, the Ministry of the Environment also sends out sustainable fashion.
What do you think the apparel industry, which faces various challenges, will be in the future?
She:
Speaking of the near future, some companies have already implemented it, but I think it would be good if it became made-to-order production.
Efforts such as semi-custom-made have begun, but in other words, I hope to create a world where people can use it properly in small quantities, producing according to their own size rather than mass production.
To that end, I think flexible production must catch up technically. There is also the problem that the production cost is too high.
On the other hand, tailor-made products need to accurately and timely grasp the physical information of end users, even if they have clothing production technology. VRC is developing with a focus here.
If physical information and production technology are combined and we can show custom-made and fitted clothes before production in the future, we can reduce waste and improve the purchasing experience.
We would like to aim for such a world in the future and work with apparel companies to transform the apparel industry over the next few years.


--There are many companies that are engaged in the 3D scanner business, but is there a big technical problem such as difficulty that it is difficult for players to come out to solve the problems of the apparel industry?
She:
Well, there are many companies that do 3D scanning and measuring technology other than VRC for 3D scanning solutions.
However, it has gradually become clear that these technologies alone are not sufficient to meet the needs of the apparel industry and transform the industry.
Among several factors, the first is whether we can obtain information on human measurement and body shape data with good cost performance.
It's often said that deploying a single device is expensive, and the apparel industry emphasizes a single 3D scanning fee when providing it to end users.
There is also a security issue as to whether the information can be seen only by the end user when acquiring data and providing services.
The concept of virtual fitting has been around for a long time, but in order to realize it, we have to make a 3D model of clothes, and we also need to develop technology for virtual fitting. In addition, cost issues must be cleared.
What makes VRC unique is that it does all of that, is cost-effective with a total solution, and is easy for companies to introduce .
3D models have a large amount of calculation, and there are advances in hardware, but if the amount of data is large, it will take time to calculate, and some equipment will be required.
How to render in real time with an emphasis on cost and speed is also a point that is difficult to advance due to a large technology gap.


-It is true that end users cannot wait unless they render clothes and avatars in real time, and I understand that it is difficult.
From the perspective of Mr. Shee's engineer, what do you think of your current VRC work?
She:
I was a graduate researcher until 2010.
At that time, as a researcher, I was conscious of where the cutting-edge technology was gathered in the world, and felt a sense of accomplishment in creating something that was not in the world.

After 2010, I entered the industrial world and contributed by developing technology so that I could bring it not only to research but also to practical use. I felt and was proud. I think it's good that people can use what they have made.
Many engineers aim to be the first in the world and the first in Japan, and so are I. If we can develop a solution such as virtual fitting that we are doing with VRC now, I think we can be the first in the world and the first in Japan.
Also, as a researcher, I am happy to be exposed to cutting-edge technologies that are not available in the world.
I think it's best to work with university professors who are doing cutting-edge research around the world to develop solutions that can be used by end users.


-That's right, being exposed to cutting-edge technology is hot as a developer. Meanwhile, you are now enthusiastic about hiring engineers.
She:
From the standpoint of VRC, which is now in its sixth term, VRC is exposed to cutting-edge technology and aims to provide total solutions, but I am really excited.
There are only a few dozen people, but we are doing everything from technology development, cloud service development, hardware development, application development to backend development.
Everyone is a hot group with a passion for 3D, and it is really the driving force to feel that amount of heat.
If you are enthusiastic about creating the future together with 3D technology, I would like to talk to you once.


-Well, if you want to solve apparel issues while touching 3D avatars and cutting-edge technology, please contact us.
Thank you again, Mr. Sheh for today.


・ ・ ・ ・ ・ ・ ・ ・ ・ ・ ・
This time, I felt once again that what VRC is doing is truly the most advanced in the industry, and it is exciting from the perspective of engineers. If you are curious about what you are doing, please feel free to apply and talk first!


* For other attractive points and details, please search from the VRC official note! !! *