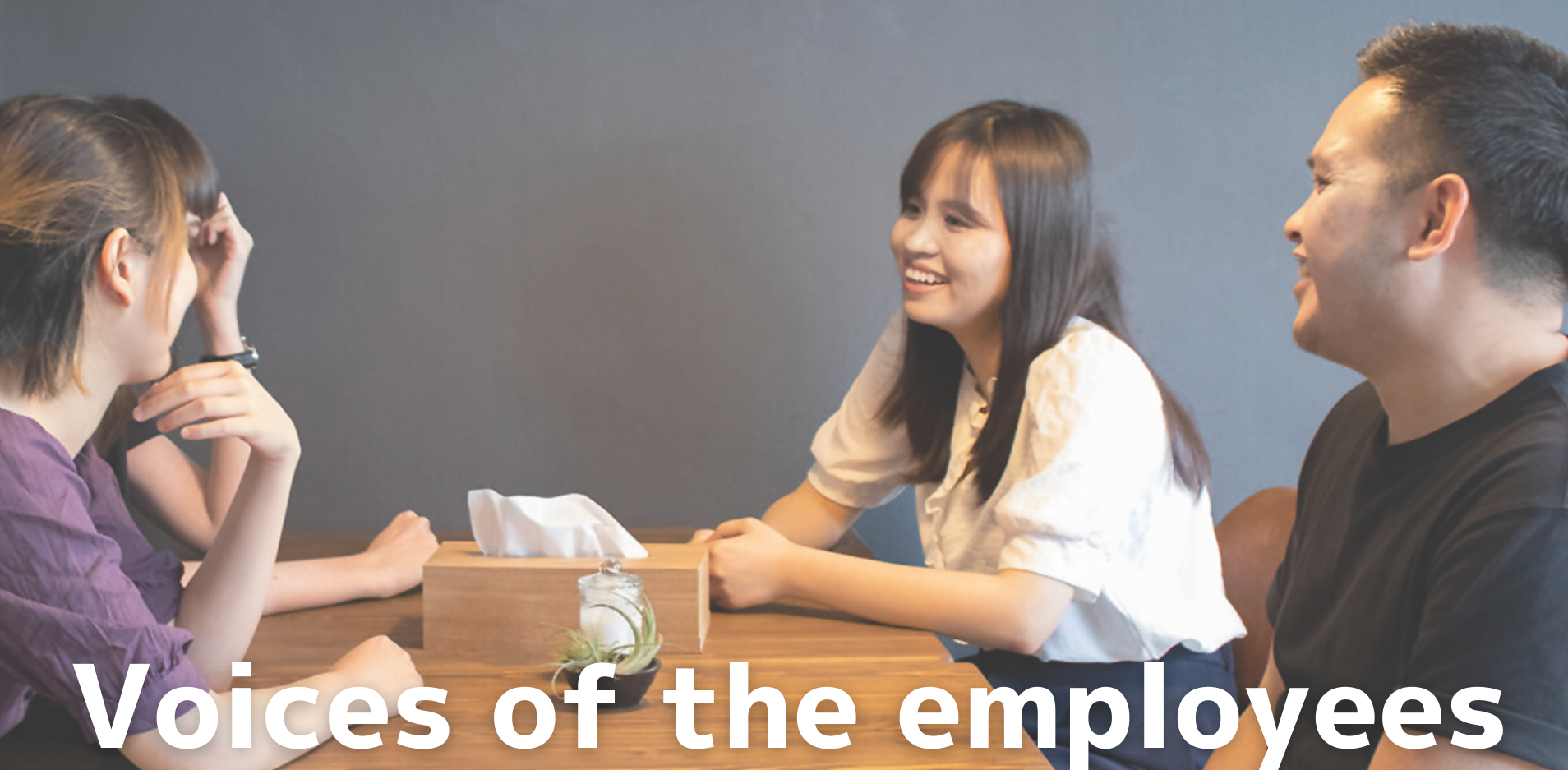 Q1. Please tell us about your current job. What kind of place do you find rewarding?
Currently, I am in charge of customer support in Germany, and I am dealing with customers who use the German site. We respond to simple inquiries, respond to problems, manage operators in your language, train operators and new entrants, and support other languages as needed.
If you have a problem, we will resolve it quickly to your satisfaction, and if you are willing to receive a thank-you message, it will be rewarding. And if you run into a slightly more complicated problem, we will work with each department to find a solution.

Q2. Why did you decide to join ZenMarket?
I wanted to work for a company with foreign staff, and I wanted to connect domestically and internationally while making full use of my language skills. When I met ZenMarket, I felt that I could do a job that would lead to international affairs where I could use the language skills I wanted. And I found it very attractive that there are many foreign staff and support for diversity. As a result of the interview, despite the international environment, cooperation with each staff member is very important, and I felt an environment where I could develop my own experience and abilities, and I wanted to join the company. ..

Q3. What are the global points of ZenMarket?
I'm German, but I mainly use Japanese for customer support at work to get in touch with other departments. Use English or your native language when returning messages from you. Even within the company, the language used differs depending on the department and person, so I think that about 50% is used in English. There are many Japanese staff and foreign staff, so your favorite language will change depending on the person. Therefore, if there is an in-house presentation, we will announce it in both Japanese and English so that everyone can understand it. I think that foreign staff is about 60% of the whole company, but 90% of the customer support department is foreign staff. This is a department where you can make the most of your language skills.

Q4. Please tell us about the atmosphere and working style of the customer support department.
The customer support department has 90% foreign staff and is in a very bright environment. People from different countries can work together to learn about other cultures at any time. Since my boss is also kind, it is easy to ask questions and it is an environment where I can work efficiently. When I work, everyone works intensively, so it's an environment where I can go home on time almost every day. Of course, I work overtime when I need it, but I'm working hard so that everyone can go home early. You can get a salary without any problem when you want to return to Japan, so it is easy to balance your work-life balance.

Q5. What can ZenMarket be proud of?
ZenMarket is a diverse and highly international company. In the EC business, we are proud to be a very comfortable company, providing excellent services in multiple languages to many customers and respecting the opinions of each and every employee.

Q6. Please tell me the schedule for the day.
◆ 9:00 After commuting, first drink coffee and check emails, messages, and today's work as the beginning of the day.
◆ 9:30 Check the operator tasks for your language version (whether the message has remained unresponsive for a long time, the number of tasks remaining)
◆ 10: 30 We will respond to old and new tickets (if problems occur) and check customers with problems.
◆ 12:30 Lunch break Have lunch at the cafeteria while chatting with colleagues
◆ 13:30 Please check your language again. If there are few tasks, we will support other versions.
◆ 16:00 It is time for the operator in charge to go to work frequently, so we will answer your questions and give you feedback.
◆ 16:30 Support other versions and perform tasks in your own language.
◆ 17: 45 Look back on the day and see what to do the next day. Finally, double-check the operator's work schedule and customer messages and take action if necessary.
◆ 18:15 I quit my job

Q7. Please give a message to the job seeker.
If you're looking for an environment that's international yet challenging yourself and supporting all your staff, I definitely recommend ZenMarket. As an open and modern e-commerce company, you'll always have a timely and rewarding work style.


Q1. Please tell us about your current work. What kind of place do you find rewarding?
I coordinate and develop all company marketing endeavors targeted towards an international English-speaking demographic interested in Japanese goods. The most rewarding part of my job is the meaningful growth that comes from the marketing campaigns and strategies I've put in place.

Q2. Why did you decide to join ZenMarket?
I joined ZenMarket as a means to continue down the career path of marketing while also working in an international environment within Japan.

Q3. Please tell us about the global points of ZenMarket.
The ZenMarket office has native speakers of languages from all over the world, bringing together a diverse group of individuals and cultures - making the workplace truly a global environment.

Q4. Please tell us about the atmosphere and working style of the customer support department.
The atmosphere of my team is one of positivity and continuous growth. There are shifting variables and new developments within our line of work and it takes a collaborative effort from individuals within the team to stay up to date with the latest developments.

Q5. What can ZenMarket be proud of?
The large international collection of multicultural talent working within ZenMarket is truly impressive given how homogeneous a country Japan is. The talent within the company it's truly something to be proud of.

Q6. Please tell me the schedule for the day.
My schedule each day can be largely divided into two main sections. One, routine marketing tasks that consist of maintaining ongoing activities and campaigns. Two, working on new projects and developments to ensure long-term growth.

Q7. Could you give a message to job seekers?
For those who have a genuine interest in Japan wanting to work in an international environment, ZenMarket can be a great place to work. The company is constantly growing and so It's best suited to individuals who are proactively seeking personal and professional development.