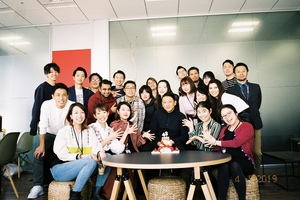 A collection of individual personalities
It is a unique and advanced environment with a mixture of 50% male and 50% gender, diverse nationalities, religions, ages and cultures. While the cultures and customs of each country are different, we try to create a place where we can sympathize with each other by blending better things.
Anyway, it is full of energy, everyone is cheerful and lively, and there is a family-like atmosphere where you can help each other.

Powerful work and private life!
In order to solve customers' problems, we not only face our work with all our might, but also have a wide variety of powerful and diverse ways of spending company events and private life. Many employees take long vacations, spend time with their families in their home countries, and study new languages and qualifications. We respect each other's values and on / off.

Enjoy change with friends
Due to the corona wreck, there was a time to work from home for a long time and respond to an unprecedented environment, but we responded quickly to such changes, and the team is working as one to achieve better results than before the corona wreck. ..
We have created a virtuous cycle environment where you can enjoy change while connecting with your friends and continue to produce results, such as online lunch parties, exercise planning, and study sessions.