We are a family of diverse people sharing a common goal.
At Rakuten, we celebrate the fact that we are a single global company that transcends ethnic, gender and geographical borders. In Tokyo alone, we have people from over 70+ countries and regions contributing to projects and sharing their viewpoints and experiences. By positively embracing diversity, we encourage fresh perspectives and discover new business opportunities and strategies.
Support for our global community includes everything from daycare centers for working parents to the adoption of English as a common language and open spaces that foster free communication. To us, every wall inside the office is a whiteboard! We think of ourselves as a new kind of family, one based not on chance but on determination to be the brightest and the best. New employees are guided by colleagues who ensure we hit the ground running and are always there to pick us up when we stumble. (And we all stumble from time to time!)
One thing's for sure. We make the most of every second!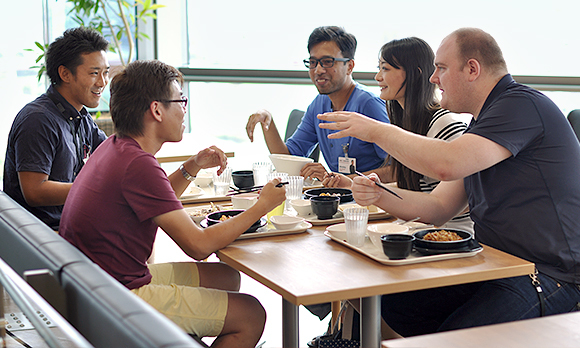 Our Welfare and Benefits at the Crimson House
■
Free cafeteria mealsーbreakfast, lunch, and dinner!
■
Relaxation space which offers massage and other treatments.
■
Fitness gym and spa, which also supports training support
■
Childcare center offering comprehensive children's education programmes.
■
Other facilities include a study room, prayer and meditation room, hair salon and clinic.