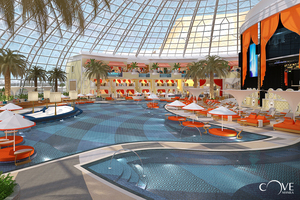 Cove Manila is the largest ultra-luxury indoor beach club/night club in Southeast Asia and one of the most sophisticated entertainment complexes in the world. Guests can enjoy the breathtaking view of Manila Bay from within a column-free, 90-m tall UV-reflective and hermetically controlled glass dome that offers unparalleled luxury and stylish ambience.

Cove Manila occupies 9,000 square meters of space that is ideal for staging large-scale events including concerts, product launches, corporate events and social gatherings. The space can accommodate up to 5,500 guests, who can arrive at the venue hassle-free with its direct link from NAIA. Our 5 bars, 20 service wells, and a Grab 'N Go food concept also ensure that our patrons are well taken care of.

Cove Manila provides the ultimate day-to-night party experience with its upscale Beach Club and Night Club.

The Beach Club is an indoor facility that emulates a vibrant bayside atmosphere by day and a nice cool climate by night — giving you the ultimate summer beach party experience without having to worry about the elements. Among its unique features are a butterfly-shaped pool, swim-up bar, 33 well-appointed cabanas, infinity Jacuzzis, and a Sand Deck boasting its own imported white sand.

The Night Club seamlessly incorporates some of the most advanced audio, video, and lighting technologies designed to create a memorable concert experience. Its chandelier is the only one of its kind in Southeast Asia with its ability to produce up to 10,000 special effects including choreographed video and LED projections and 3D motion graphics. It is the only venue in the Philippines that uses world-renowned audio engineer Tony Andrews' Funktion-One high-resolution sound system, designed to minimize ear fatigue and deliver incredibly crisp sound detail and quality.