By the end of October 2016, there were 1.8 million foreign workers in Japan. This is a 19.4% increase in comparison to previous years and is a new record high. (Ministry of Health, Labor and Welfare 1/2017)

Find out here what it's like joining Human Resocia!!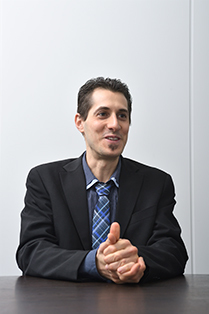 Daniele Romano
ロマーノ ダニエレ

【I decided to work in Japan then had a phone interview.】


When I decided to work in Japan I found Daijob.com, a very easy to use career website. That's how I found an opportunity at Human Resocia.

I did an interview in via Skype and talked about my studies in university as well as my experience as an IT Engineer in Italy. I studied Japanese on my own and at the time, wasn't able to communicate well in the language however, my achievements and personality were evaluated through my English interview.

That same year in April, I traveled to Japan with a friend and was able to meet with someone from Resocia.
I thought it was a great company and it made me really want to try working in Japan. After my trip, I returned to Italy with more motivation to study Japanese and later that year in October, I returned to Japan - not for travel but for work!
My interest in Japan started with Dragon Ball. I was introduced to the manga when I was 10 years old and from then,
I've been hooked.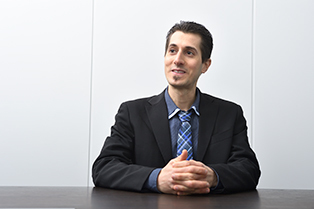 【It was my first time working abroad. I had no problems at all】

For the first 2 months after arriving in Japan, I primarily focused on learning IT skills and studying Japanese.

I was so nervous when I arrived at the airport. However, there was someone from Human Resocia there to pick me up and take me to buy necessities such as food and bedding for my new life in Japan.

At Human Resocia, they teach Japanese business manners (i.g. bowing culture) and how to use IT information websites used by Japanese IT engineers. By December 2016, I was dispatched to a big electronics company. I was nervous at first but I had no problems when I started working.
Now I am working on a 4-person team which includes a Japanese and Thai teammate. People are coming from all over the world to work in Japan so I can talk to different kinds of people. I can speak Japanese with Japanese people and English with foreigners.

After work, I go to the company gym and work out for an hour, go home and make dinner, watch Japanese TV and study. On my days off, I hang out with my Japanese friends. I haven't had any difficulties since coming to work in Japan. Someday, I do want to return to Italy with my family but for now, I want to work in Japan for the long-term. I am fully enjoying my experience in Japan.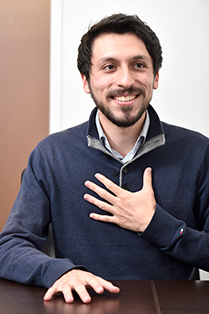 John Estupinan
エストゥピナン ベラスコ ジョンアレクサンダー

【I was attracted to Japan's technological strength in the global market. I am the only foreigner in my department. 】

Because I majored in Electronic Engineering in university, I had this strong image of Japan being a leader in technological advancements such as in robotics. I also thought that part of Japanese culture like protecting promises suited my personality. I went to Japanese language school for a year and learned the language.

I currently work at an Automotive Audio Equipment Manufacturing company. There are 26 people in my department who are all Japanese and I am the only foreigner. We communicate primarily in Japanese.

There are times when I've used gestures or drawings to express something I can't say in Japanese. I also have times when I don't know the company business manners or rules, but my co-workers are always there to help. It's also really great that Human Resocia teaches basic Japanese business manners.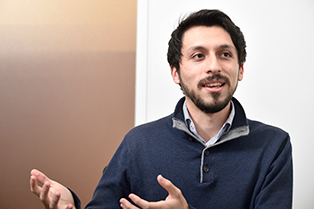 【Connecting Japan and the world in the "middle" of culture】
The difference between Japan and my home country Colombia is that Japan puts importance on process while Colombia is results-oriented. Because of this we often rush to finish projects so that we have a 'result', but then we often have to go back and fix our finished coding. On the other hand Japan is focused on process, which yields better results however they tend to spend too much time on parts that aren't important.

In the beginning, I was perplexed by the Japanese way of doing things.
Colombians say exactly what they think, but Japanese people try their best to be polite. At first, I hated it. However, as I got through my training I gradually came to understand the Japanese way of doing things. I no longer disliked it, rather I came to think that Japanese people are very peaceful.

When I interpreted for an international project, I was able to explain the difference in culture and led to a successful negotiation. I feel it is important to be able to look at things from different point of view.