What is Daijob AGENT?
Daijob AGENT is a recruitment consulting service operated by Daijob.com, one of Japan's largest jobsites for bilinguals.
Our mission is to provide a complete consulting service to bilingual professionals, helping them to succeed in their hunt for the perfect job.
In addition to offering our service in Japanese, English and Chinese, we pride ourselves on the diverse backgrounds of our consultants which helps us to further understand the mentality of job-seekers and offer a more efficient and effective placement serivce.
Why Daijob AGENT?
Many positions and companies that can help you work on the global stage
With over 2,500 foreign-affiliated and global clients
We also deal with positions not advertised online related to expanding business in Japan or abroad
Steps towards hiring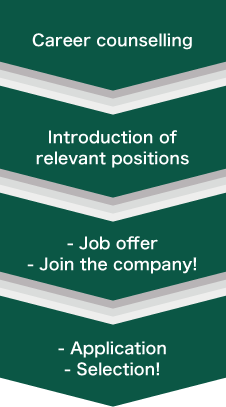 ※Please note that if your skills and experience do not match the position,
you may not be introduced even if you interview with our consultant.
© Human Global Talent Co., Ltd.