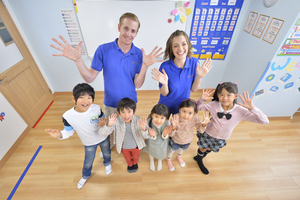 Training and Support
Our goal is to take enthusiastic, energetic and creative people and help them build the skills they need to be great instructors. For many Kids Duo instructors, working with Kids Duo is their first teaching job. New instructors receive initial training at head office to learn the Kids Duo method, and on-job-training in a classroom to build practical experience. When settled at their schools, instructors receive constant support from trainers and a community of Kids Duo instructors. Instructors use a detailed curriculum developed through the experience of Kids Duo instructors. Kids Duo also provides instructors with additional resources such as supplemental lesson plans, worksheets, CDs and so on. There is continuous training through workshops and seminars that allow instructors to bounce ideas off of each other and seek, or provide, advice on various topics.
We look forward to being able to work together!!