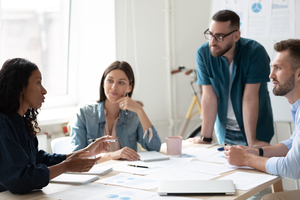 1. Those who want [high upside] At the time of spin-off, we will distribute shares to the main members according to their contribution. As the team is working together to grow the business with the goal of exiting in 2-5 years, the capital gains when the business / company you lead exits will be incomparably higher than working elsewhere. must.
2. Those who want to get [more rewards] We will pay more rewards. If you are a high performer, you will definitely get a higher salary.
3. Those who want to do [Management] I would like excellent people to be immediately involved in the management of new businesses. In fact, some members are in their early twenties and are involved in management immediately after joining the company.
4. People who want to work with [smart and talented people] Startups that have just started a business are in the battle of "how quickly can they be monetized with limited initial funds (= time limit)". In other words, it is impossible to keep paying people who can't think and move with their own minds and who can't perform. Therefore, only smart people and people who can produce results remain in the team.
5. People who like [new things, new businesses] We are incubating into new businesses using IT. For those who like to create something from scratch, and those who like new things, it will be a stimulating environment.