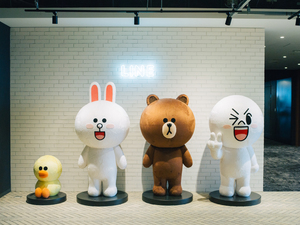 ■ MISSION
Our mission is people and people all over the world,
To shorten the distance between people and information / services.

LINE continues to grow into a global service that is used by more than 200 million people worldwide, and has a high market share not only in Japan but also in the four major Asian countries.
We are developing various projects and services based on a large-scale user base.

The LINE Fukuoka Development Office currently has about 100 engineers, and is a service development organization with a wide variety of positions and orientations, including server / client side, front end, and data engineers.

Many professionals of all nationalities are active, including prominent open source committers, Taiwan's largest Java community organizer, and JavaOne speakers.
Excellent engineers with a wealth of experience in all fields actively strive for innovation and new manufacturing, and are evolving their skills and technical curiosity as engineers every day.


■ We Create WOW

LINE's value standard is packed with the word "WOW".
WOW is "the first experience that impresses users" and "a surprise that makes you want to tell your friends."
WOW is always the number one service that leads the market and changes the world's paradigm.
We are constantly tackling new challenges and developing services that have an impact on the world.