Company Intro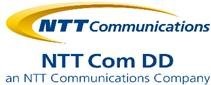 "・ NTT Com DD Co., Ltd. is a company that has been under the umbrella of NTT Communications since 2019. Originally, it has strengths in South Africa and Europe.
It was a Japanese subsidiary of Dimension Data, a global company. The shape did not change after joining the NTT Group in 2010, but in 2019, the NTT Group
Due to the group business strategy, it will be positioned under the umbrella of NTT Communications.

・ The projects we are working on are the same as before, and there are many very global and large-scale projects. Among consulting, ICT solutions & services
Mainly network, security, collaboration (voice and visual communication), data center design, operation, maintenance, etc.
We handle it.
Our business strength lies in the comprehensive strength of Dimension Data (currently NTT Ltd.). Global projects in multiple languages by global employees
We have the advantage of providing excellent services to our customers.
In addition, we are a global gold partner of Cisco Systems. Strategically using the latest technology from Cisco
It is used for solutions. We are also demonstrating our strengths in this regard within the NTT Group.
Also, now that we are in the NTT Communications Group, the Japanese customer base is increasing.

・ About Dimension Data (currently NTT Ltd.)
NTT Ltd. is a world-leading technology service company. As a global ICT provider, diverse and dynamic across 57 countries
More than 40,000 people are active in the workplace. We operate in 73 countries and serve more than 200 countries and territories.
Joined NTT Group in Japan by TOB in 2010. Dimension Data Holdings plc, following the global reorganization of NTT Group from July 2019
The businesses of NTT Communications and NTT Security's subsidiaries have been integrated into overseas and domestic brands, and have continued to this day. "