",JSONFilter:/^\/\*-secure-([\s\S]*)\*\/\s*$/,emptyFunction:function(){},K:function(x){return x}};if(Prototype.Browser.MobileSafari)Prototype.BrowserFeatures.SpecificElementExtensions=false;var Class=function(){var IS_DONTENUM_BUGGY=function(){for(var p in{toString:1}){if(p==="toString")return false}return true}();function subclass(){}function create(){var parent=null,properties=$A(arguments);if(Object.isFunction(properties[0]))parent=properties.shift();function klass(){this.initialize.apply(this,arguments)}Object.extend(klass,Class.Methods);klass.superclass=parent;klass.subclasses=[];if(parent){subclass.prototype=parent.prototype;klass.prototype=new subclass;parent.subclasses.push(klass)}for(var i=0,length=properties.length;i0){match=source.match(pattern);if(match&&match[0].length>0){result+=source.slice(0,match.index);result+=String.interpret(replacement(match));source=source.slice(match.index+match[0].length)}else{result+=source,source=""}}return result}function sub(pattern,replacement,count){replacement=prepareReplacement(replacement);count=Object.isUndefined(count)?1:count;return this.gsub(pattern,function(match){if(--count<0)return match[0];return replacement(match)})}function scan(pattern,iterator){this.gsub(pattern,iterator);return String(this)}function truncate(length,truncation){length=length||30;truncation=Object.isUndefined(truncation)?"...":truncation;return this.length>length?this.slice(0,length-truncation.length)+truncation:String(this)}function strip(){return this.replace(/^\s+/,"").replace(/\s+$/,"")}function stripTags(){return this.replace(/<\w+(\s+("[^"]*"|'[^']*'|[^>])+)?>|<\/\w+>/gi,"")}function stripScripts(){return this.replace(new RegExp(Prototype.ScriptFragment,"img"),"")}function extractScripts(){var matchAll=new RegExp(Prototype.ScriptFragment,"img"),matchOne=new RegExp(Prototype.ScriptFragment,"im");return(this.match(matchAll)||[]).map(function(scriptTag){return(scriptTag.match(matchOne)||["",""])[1]})}function evalScripts(){return this.extractScripts().map(function(script){return eval(script)})}function escapeHTML(){return this.replace(/&/g,"&").replace(//g,">")}function unescapeHTML(){return this.stripTags().replace(/</g,"<").replace(/>/g,">").replace(/&/g,"&")}function toQueryParams(separator){var match=this.strip().match(/([^?#]*)(#.*)?$/);if(!match)return{};return match[1].split(separator||"&").inject({},function(hash,pair){if((pair=pair.split("="))[0]){var key=decodeURIComponent(pair.shift()),value=pair.length>1?pair.join("="):pair[0];if(value!=undefined){value=value.gsub("+"," ");value=decodeURIComponent(value)}if(key in hash){if(!Object.isArray(hash[key]))hash[key]=[hash[key]];hash[key].push(value)}else hash[key]=value}return hash})}function toArray(){return this.split("")}function succ(){return this.slice(0,this.length-1)+String.fromCharCode(this.charCodeAt(this.length-1)+1)}function times(count){return count<1?"":new Array(count+1).join(this)}function camelize(){return this.replace(/-+(.)?/g,function(match,chr){return chr?chr.toUpperCase():""})}function capitalize(){return this.charAt(0).toUpperCase()+this.substring(1).toLowerCase()}function underscore(){return this.replace(/::/g,"/").replace(/([A-Z]+)([A-Z][a-z])/g,"$1_$2").replace(/([a-z\d])([A-Z])/g,"$1_$2").replace(/-/g,"_").toLowerCase()}function dasherize(){return this.replace(/_/g,"-")}function inspect(useDoubleQuotes){var escapedString=this.replace(/[\x00-\x1f\\]/g,function(character){if(character in String.specialChar){return String.specialChar[character]}return"\\u00"+character.charCodeAt().toPaddedString(2,16)});if(useDoubleQuotes)return'"'+escapedString.replace(/"/g,'\\"')+'"';return"'"+escapedString.replace(/'/g,"\\'")+"'"}function unfilterJSON(filter){return this.replace(filter||Prototype.JSONFilter,"$1")}function isJSON(){var str=this;if(str.blank())return false;str=str.replace(/\\(?:["\\\/bfnrt]|u[0-9a-fA-F]{4})/g,"@");str=str.replace(/"[^"\\\n\r]*"|true|false|null|-?\d+(?:\.\d*)?(?:[eE][+\-]?\d+)?/g,"]");str=str.replace(/(?:^|:|,)(?:\s*\[)+/g,"");return/^[\],:{}\s]*$/.test(str)}function evalJSON(sanitize){var json=this.unfilterJSON(),cx=/[\u0000\u00ad\u0600-\u0604\u070f\u17b4\u17b5\u200c-\u200f\u2028-\u202f\u2060-\u206f\ufeff\ufff0-\uffff]/g;if(cx.test(json)){json=json.replace(cx,function(a){return"\\u"+("0000"+a.charCodeAt(0).toString(16)).slice(-4)})}try{if(!sanitize||json.isJSON())return eval("("+json+")")}catch(e){}throw new SyntaxError("Badly formed JSON string: "+this.inspect())}function parseJSON(){var json=this.unfilterJSON();return JSON.parse(json)}function include(pattern){return this.indexOf(pattern)>-1}function startsWith(pattern,position){position=Object.isNumber(position)?position:0;return this.lastIndexOf(pattern,position)===position}function endsWith(pattern,position){pattern=String(pattern);position=Object.isNumber(position)?position:this.length;if(position<0)position=0;if(position>this.length)position=this.length;var d=position-pattern.length;return d>=0&&this.indexOf(pattern,d)===d}function empty(){return this==""}function blank(){return/^\s*$/.test(this)}function interpolate(object,pattern){return new Template(this,pattern).evaluate(object)}return{gsub:gsub,sub:sub,scan:scan,truncate:truncate,strip:String.prototype.trim||strip,stripTags:stripTags,stripScripts:stripScripts,extractScripts:extractScripts,evalScripts:evalScripts,escapeHTML:escapeHTML,unescapeHTML:unescapeHTML,toQueryParams:toQueryParams,parseQuery:toQueryParams,toArray:toArray,succ:succ,times:times,camelize:camelize,capitalize:capitalize,underscore:underscore,dasherize:dasherize,inspect:inspect,unfilterJSON:unfilterJSON,isJSON:isJSON,evalJSON:NATIVE_JSON_PARSE_SUPPORT?parseJSON:evalJSON,include:include,startsWith:String.prototype.startsWith||startsWith,endsWith:String.prototype.endsWith||endsWith,empty:empty,blank:blank,interpolate:interpolate}}());var Template=Class.create({initialize:function(template,pattern){this.template=template.toString();this.pattern=pattern||Template.Pattern},evaluate:function(object){if(object&&Object.isFunction(object.toTemplateReplacements))object=object.toTemplateReplacements();return this.template.gsub(this.pattern,function(match){if(object==null)return match[1]+"";var before=match[1]||"";if(before=="\\")return match[2];var ctx=object,expr=match[3],pattern=/^([^.[]+|\[((?:.*?[^\\])?)\])(\.|\[|$)/;match=pattern.exec(expr);if(match==null)return before;while(match!=null){var comp=match[1].startsWith("[")?match[2].replace(/\\\\]/g,"]"):match[1];ctx=ctx[comp];if(null==ctx||""==match[3])break;expr=expr.substring("["==match[3]?match[1].length:match[0].length);match=pattern.exec(expr)}return before+String.interpret(ctx)})}});Template.Pattern=/(^|.|\r|\n)(#\{(.*?)\})/;var $break={};var Enumerable=function(){function each(iterator,context){try{this._each(iterator,context)}catch(e){if(e!=$break)throw e}return this}function eachSlice(number,iterator,context){var index=-number,slices=[],array=this.toArray();if(number<1)return array;while((index+=number)=result)result=value},this);return result}function min(iterator,context){iterator=iterator||Prototype.K;var result;this.each(function(value,index){value=iterator.call(context,value,index,this);if(result==null||valueb?1:0}).pluck("value")}function toArray(){return this.map()}function zip(){var iterator=Prototype.K,args=$A(arguments);if(Object.isFunction(args.last()))iterator=args.pop();var collections=[this].concat(args).map($A);return this.map(function(value,index){return iterator(collections.pluck(index))})}function size(){return this.toArray().length}function inspect(){return"#"}return{each:each,eachSlice:eachSlice,all:all,every:all,any:any,some:any,collect:collect,map:collect,detect:detect,findAll:findAll,select:findAll,filter:findAll,grep:grep,include:include,member:include,inGroupsOf:inGroupsOf,inject:inject,invoke:invoke,max:max,min:min,partition:partition,pluck:pluck,reject:reject,sortBy:sortBy,toArray:toArray,entries:toArray,zip:zip,size:size,inspect:inspect,find:detect}}();function $A(iterable){if(!iterable)return[];if("toArray"in Object(iterable))return iterable.toArray();var length=iterable.length||0,results=new Array(length);while(length--)results[length]=iterable[length];return results}function $w(string){if(!Object.isString(string))return[];string=string.strip();return string?string.split(/\s+/):[]}Array.from=$A;(function(){var arrayProto=Array.prototype,slice=arrayProto.slice,_each=arrayProto.forEach;function each(iterator,context){for(var i=0,length=this.length>>>0;i>>0;if(length===0)return-1;i=Number(i);if(isNaN(i)){i=0}else if(i!==0&&isFinite(i)){i=(i>0?1:-1)*Math.floor(Math.abs(i))}if(i>length)return-1;var k=i>=0?i:Math.max(length-Math.abs(i),0);for(;k>>0;if(length===0)return-1;if(!Object.isUndefined(i)){i=Number(i);if(isNaN(i)){i=0}else if(i!==0&&isFinite(i)){i=(i>0?1:-1)*Math.floor(Math.abs(i))}}else{i=length}var k=i>=0?Math.min(i,length-1):length-Math.abs(i);for(;k>=0;k--)if(k in array&&array[k]===item)return k;return-1}function concat(_){var array=[],items=slice.call(arguments,0),item,n=0;items.unshift(this);for(var i=0,length=items.length;i>>0;i>>0;i>>0;i>>0;i"}function clone(){return new Hash(this)}return{initialize:initialize,_each:_each,set:set,get:get,unset:unset,toObject:toObject,toTemplateReplacements:toObject,keys:keys,values:values,index:index,merge:merge,update:update,toQueryString:toQueryString,inspect:inspect,toJSON:toObject,clone:clone}}());Hash.from=$H;Object.extend(Number.prototype,function(){function toColorPart(){return this.toPaddedString(2,16)}function succ(){return this+1}function times(iterator,context){$R(0,this,true).each(iterator,context);return this}function toPaddedString(length,radix){var string=this.toString(radix||10);return"0".times(length-string.length)+string}function abs(){return Math.abs(this)}function round(){return Math.round(this)}function ceil(){return Math.ceil(this)}function floor(){return Math.floor(this)}return{toColorPart:toColorPart,succ:succ,times:times,toPaddedString:toPaddedString,abs:abs,round:round,ceil:ceil,floor:floor}}());function $R(start,end,exclusive){return new ObjectRange(start,end,exclusive)}var ObjectRange=Class.create(Enumerable,function(){function initialize(start,end,exclusive){this.start=start;this.end=end;this.exclusive=exclusive}function _each(iterator,context){var value=this.start,i;for(i=0;this.include(value);i++){iterator.call(context,value,i);value=value.succ()}}function include(value){if(value1&&!(readyState==4&&this._complete))this.respondToReadyState(this.transport.readyState)},setRequestHeaders:function(){var headers={"X-Requested-With":"XMLHttpRequest","X-Prototype-Version":Prototype.Version,Accept:"text/javascript, text/html, application/xml, text/xml, */*"};if(this.method=="post"){headers["Content-type"]=this.options.contentType+(this.options.encoding?"; charset="+this.options.encoding:"");if(this.transport.overrideMimeType&&(navigator.userAgent.match(/Gecko\/(\d{4})/)||[0,2005])[1]<2005)headers["Connection"]="close"}if(typeof this.options.requestHeaders=="object"){var extras=this.options.requestHeaders;if(Object.isFunction(extras.push))for(var i=0,length=extras.length;i=200&&status<300||status==304},getStatus:function(){try{if(this.transport.status===1223)return 204;return this.transport.status||0}catch(e){return 0}},respondToReadyState:function(readyState){var state=Ajax.Request.Events[readyState],response=new Ajax.Response(this);if(state=="Complete"){try{this._complete=true;(this.options["on"+response.status]||this.options["on"+(this.success()?"Success":"Failure")]||Prototype.emptyFunction)(response,response.headerJSON)}catch(e){this.dispatchException(e)}var contentType=response.getHeader("Content-type");if(this.options.evalJS=="force"||this.options.evalJS&&this.isSameOrigin()&&contentType&&contentType.match(/^\s*(text|application)\/(x-)?(java|ecma)script(;.*)?\s*$/i))this.evalResponse()}try{(this.options["on"+state]||Prototype.emptyFunction)(response,response.headerJSON);Ajax.Responders.dispatch("on"+state,this,response,response.headerJSON)}catch(e){this.dispatchException(e)}if(state=="Complete"){this.transport.onreadystatechange=Prototype.emptyFunction}},isSameOrigin:function(){var m=this.url.match(/^\s*https?:\/\/[^\/]*/);return!m||m[0]=="#{protocol}//#{domain}#{port}".interpolate({protocol:location.protocol,domain:document.domain,port:location.port?":"+location.port:""})},getHeader:function(name){try{return this.transport.getResponseHeader(name)||null}catch(e){return null}},evalResponse:function(){try{return eval((this.transport.responseText||"").unfilterJSON())}catch(e){this.dispatchException(e)}},dispatchException:function(exception){(this.options.onException||Prototype.emptyFunction)(this,exception);Ajax.Responders.dispatch("onException",this,exception)}});Ajax.Request.Events=["Uninitialized","Loading","Loaded","Interactive","Complete"];Ajax.Response=Class.create({initialize:function(request){this.request=request;var transport=this.transport=request.transport,readyState=this.readyState=transport.readyState;if(readyState>2&&!Prototype.Browser.IE||readyState==4){this.status=this.getStatus();this.statusText=this.getStatusText();this.responseText=String.interpret(transport.responseText);this.headerJSON=this._getHeaderJSON()}if(readyState==4){var xml=transport.responseXML;this.responseXML=Object.isUndefined(xml)?null:xml;this.responseJSON=this._getResponseJSON()}},status:0,statusText:"",getStatus:Ajax.Request.prototype.getStatus,getStatusText:function(){try{return this.transport.statusText||""}catch(e){return""}},getHeader:Ajax.Request.prototype.getHeader,getAllHeaders:function(){try{return this.getAllResponseHeaders()}catch(e){return null}},getResponseHeader:function(name){return this.transport.getResponseHeader(name)},getAllResponseHeaders:function(){return this.transport.getAllResponseHeaders()},_getHeaderJSON:function(){var json=this.getHeader("X-JSON");if(!json)return null;try{json=decodeURIComponent(escape(json))}catch(e){}try{return json.evalJSON(this.request.options.sanitizeJSON||!this.request.isSameOrigin())}catch(e){this.request.dispatchException(e)}},_getResponseJSON:function(){var options=this.request.options;if(!options.evalJSON||options.evalJSON!="force"&&!(this.getHeader("Content-type")||"").include("application/json")||this.responseText.blank())return null;try{return this.responseText.evalJSON(options.sanitizeJSON||!this.request.isSameOrigin())}catch(e){this.request.dispatchException(e)}}});Ajax.Updater=Class.create(Ajax.Request,{initialize:function($super,container,url,options){this.container={success:container.success||container,failure:container.failure||(container.success?null:container)};options=Object.clone(options);var onComplete=options.onComplete;options.onComplete=function(response,json){this.updateContent(response.responseText);if(Object.isFunction(onComplete))onComplete(response,json)}.bind(this);$super(url,options)},updateContent:function(responseText){var receiver=this.container[this.success()?"success":"failure"],options=this.options;if(!options.evalScripts)responseText=responseText.stripScripts();if(receiver=$(receiver)){if(options.insertion){if(Object.isString(options.insertion)){var insertion={};insertion[options.insertion]=responseText;receiver.insert(insertion)}else options.insertion(receiver,responseText)}else receiver.update(responseText)}}});Ajax.PeriodicalUpdater=Class.create(Ajax.Base,{initialize:function($super,container,url,options){$super(options);this.onComplete=this.options.onComplete;this.frequency=this.options.frequency||2;this.decay=this.options.decay||1;this.updater={};this.container=container;this.url=url;this.start()},start:function(){this.options.onComplete=this.updateComplete.bind(this);this.onTimerEvent()},stop:function(){this.updater.options.onComplete=undefined;clearTimeout(this.timer);(this.onComplete||Prototype.emptyFunction).apply(this,arguments)},updateComplete:function(response){if(this.options.decay){this.decay=response.responseText==this.lastText?this.decay*this.options.decay:1;this.lastText=response.responseText}this.timer=this.onTimerEvent.bind(this).delay(this.decay*this.frequency)},onTimerEvent:function(){this.updater=new Ajax.Updater(this.container,this.url,this.options)}});(function(GLOBAL){var UNDEFINED;var SLICE=Array.prototype.slice;var DIV=document.createElement("div");function $(element){if(arguments.length>1){for(var i=0,elements=[],length=arguments.length;i');return el.tagName.toLowerCase()==="input"&&el.name==="x"}catch(err){return false}}();var oldElement=GLOBAL.Element;function Element(tagName,attributes){attributes=attributes||{};tagName=tagName.toLowerCase();if(HAS_EXTENDED_CREATE_ELEMENT_SYNTAX&&attributes.name){tagName="<"+tagName+' name="'+attributes.name+'">';delete attributes.name;return Element.writeAttribute(document.createElement(tagName),attributes)}if(!ELEMENT_CACHE[tagName])ELEMENT_CACHE[tagName]=Element.extend(document.createElement(tagName));var node=shouldUseCreationCache(tagName,attributes)?ELEMENT_CACHE[tagName].cloneNode(false):document.createElement(tagName);return Element.writeAttribute(node,attributes)}GLOBAL.Element=Element;Object.extend(GLOBAL.Element,oldElement||{});if(oldElement)GLOBAL.Element.prototype=oldElement.prototype;Element.Methods={ByTag:{},Simulated:{}};var methods={};var INSPECT_ATTRIBUTES={id:"id",className:"class"};function inspect(element){element=$(element);var result="<"+element.tagName.toLowerCase();var attribute,value;for(var property in INSPECT_ATTRIBUTES){attribute=INSPECT_ATTRIBUTES[property];value=(element[property]||"").toString();if(value)result+=" "+attribute+"="+value.inspect(true)}return result+">"}methods.inspect=inspect;function visible(element){return $(element).style.display!=="none"}function toggle(element,bool){element=$(element);if(Object.isUndefined(bool))bool=!Element.visible(element);Element[bool?"show":"hide"](element);return element}function hide(element){element=$(element);element.style.display="none";return element}function show(element){element=$(element);element.style.display="";return element}Object.extend(methods,{visible:visible,toggle:toggle,hide:hide,show:show});function remove(element){element=$(element);element.parentNode.removeChild(element);return element}var SELECT_ELEMENT_INNERHTML_BUGGY=function(){var el=document.createElement("select"),isBuggy=true;el.innerHTML='';if(el.options&&el.options[0]){isBuggy=el.options[0].nodeName.toUpperCase()!=="OPTION"}el=null;return isBuggy}();var TABLE_ELEMENT_INNERHTML_BUGGY=function(){try{var el=document.createElement("table");if(el&&el.tBodies){el.innerHTML="
test
";var isBuggy=typeof el.tBodies[0]=="undefined";el=null;return isBuggy}}catch(e){return true}}();var LINK_ELEMENT_INNERHTML_BUGGY=function(){try{var el=document.createElement("div");el.innerHTML="";var isBuggy=el.childNodes.length===0;el=null;return isBuggy}catch(e){return true}}();var ANY_INNERHTML_BUGGY=SELECT_ELEMENT_INNERHTML_BUGGY||TABLE_ELEMENT_INNERHTML_BUGGY||LINK_ELEMENT_INNERHTML_BUGGY;var SCRIPT_ELEMENT_REJECTS_TEXTNODE_APPENDING=function(){var s=document.createElement("script"),isBuggy=false;try{s.appendChild(document.createTextNode(""));isBuggy=!s.firstChild||s.firstChild&&s.firstChild.nodeType!==3}catch(e){isBuggy=true}s=null;return isBuggy}();function update(element,content){element=$(element);var descendants=element.getElementsByTagName("*"),i=descendants.length;while(i--)purgeElement(descendants[i]);if(content&&content.toElement)content=content.toElement();if(Object.isElement(content))return element.update().insert(content);content=Object.toHTML(content);var tagName=element.tagName.toUpperCase();if(tagName==="SCRIPT"&&SCRIPT_ELEMENT_REJECTS_TEXTNODE_APPENDING){element.text=content;return element}if(ANY_INNERHTML_BUGGY){if(tagName in INSERTION_TRANSLATIONS.tags){while(element.firstChild)element.removeChild(element.firstChild);var nodes=getContentFromAnonymousElement(tagName,content.stripScripts());for(var i=0,node;node=nodes[i];i++)element.appendChild(node)}else if(LINK_ELEMENT_INNERHTML_BUGGY&&Object.isString(content)&&content.indexOf("-1){while(element.firstChild)element.removeChild(element.firstChild);var nodes=getContentFromAnonymousElement(tagName,content.stripScripts(),true);for(var i=0,node;node=nodes[i];i++)element.appendChild(node)}else{element.innerHTML=content.stripScripts()}}else{element.innerHTML=content.stripScripts()}content.evalScripts.bind(content).defer();return element}function replace(element,content){element=$(element);if(content&&content.toElement){content=content.toElement()}else if(!Object.isElement(content)){content=Object.toHTML(content);var range=element.ownerDocument.createRange();range.selectNode(element);content.evalScripts.bind(content).defer();content=range.createContextualFragment(content.stripScripts())}element.parentNode.replaceChild(content,element);return element}var INSERTION_TRANSLATIONS={before:function(element,node){element.parentNode.insertBefore(node,element)},top:function(element,node){element.insertBefore(node,element.firstChild)},bottom:function(element,node){element.appendChild(node)},after:function(element,node){element.parentNode.insertBefore(node,element.nextSibling)},tags:{TABLE:["",1],TBODY:["",2],TR:["",3],TD:["",4],SELECT:["",1]}};var tags=INSERTION_TRANSLATIONS.tags;Object.extend(tags,{THEAD:tags.TBODY,TFOOT:tags.TBODY,TH:tags.TD});function replace_IE(element,content){element=$(element);if(content&&content.toElement)content=content.toElement();if(Object.isElement(content)){element.parentNode.replaceChild(content,element);return element}content=Object.toHTML(content);var parent=element.parentNode,tagName=parent.tagName.toUpperCase();if(tagName in INSERTION_TRANSLATIONS.tags){var nextSibling=Element.next(element);var fragments=getContentFromAnonymousElement(tagName,content.stripScripts());parent.removeChild(element);var iterator;if(nextSibling)iterator=function(node){parent.insertBefore(node,nextSibling)};else iterator=function(node){parent.appendChild(node)};fragments.each(iterator)}else{element.outerHTML=content.stripScripts()}content.evalScripts.bind(content).defer();return element}if("outerHTML"in document.documentElement)replace=replace_IE;function isContent(content){if(Object.isUndefined(content)||content===null)return false;if(Object.isString(content)||Object.isNumber(content))return true;if(Object.isElement(content))return true;if(content.toElement||content.toHTML)return true;return false}function insertContentAt(element,content,position){position=position.toLowerCase();var method=INSERTION_TRANSLATIONS[position];if(content&&content.toElement)content=content.toElement();if(Object.isElement(content)){method(element,content);return element}content=Object.toHTML(content);var tagName=(position==="before"||position==="after"?element.parentNode:element).tagName.toUpperCase();var childNodes=getContentFromAnonymousElement(tagName,content.stripScripts());if(position==="top"||position==="after")childNodes.reverse();for(var i=0,node;node=childNodes[i];i++)method(element,node);content.evalScripts.bind(content).defer()}function insert(element,insertions){element=$(element);if(isContent(insertions))insertions={bottom:insertions};for(var position in insertions)insertContentAt(element,insertions[position],position);return element}function wrap(element,wrapper,attributes){element=$(element);if(Object.isElement(wrapper)){$(wrapper).writeAttribute(attributes||{})}else if(Object.isString(wrapper)){wrapper=new Element(wrapper,attributes)}else{wrapper=new Element("div",wrapper)}if(element.parentNode)element.parentNode.replaceChild(wrapper,element);wrapper.appendChild(element);return wrapper}function cleanWhitespace(element){element=$(element);var node=element.firstChild;while(node){var nextNode=node.nextSibling;if(node.nodeType===Node.TEXT_NODE&&!/\S/.test(node.nodeValue))element.removeChild(node);node=nextNode}return element}function empty(element){return $(element).innerHTML.blank()}function getContentFromAnonymousElement(tagName,html,force){var t=INSERTION_TRANSLATIONS.tags[tagName],div=DIV;var workaround=!!t;if(!workaround&&force){workaround=true;t=["","",0]}if(workaround){div.innerHTML=" "+t[0]+html+t[1];div.removeChild(div.firstChild);for(var i=t[2];i--;)div=div.firstChild}else{div.innerHTML=html}return $A(div.childNodes)}function clone(element,deep){if(!(element=$(element)))return;var clone=element.cloneNode(deep);if(!HAS_UNIQUE_ID_PROPERTY){clone._prototypeUID=UNDEFINED;if(deep){var descendants=Element.select(clone,"*"),i=descendants.length;while(i--)descendants[i]._prototypeUID=UNDEFINED}}return Element.extend(clone)}function purgeElement(element){var uid=getUniqueElementID(element);if(uid){Element.stopObserving(element);if(!HAS_UNIQUE_ID_PROPERTY)element._prototypeUID=UNDEFINED;delete Element.Storage[uid]}}function purgeCollection(elements){var i=elements.length;while(i--)purgeElement(elements[i])}function purgeCollection_IE(elements){var i=elements.length,element,uid;while(i--){element=elements[i];uid=getUniqueElementID(element);delete Element.Storage[uid];delete Event.cache[uid]}}if(HAS_UNIQUE_ID_PROPERTY){purgeCollection=purgeCollection_IE}function purge(element){if(!(element=$(element)))return;purgeElement(element);var descendants=element.getElementsByTagName("*"),i=descendants.length;while(i--)purgeElement(descendants[i]);return null}Object.extend(methods,{remove:remove,update:update,replace:replace,insert:insert,wrap:wrap,cleanWhitespace:cleanWhitespace,empty:empty,clone:clone,purge:purge});function recursivelyCollect(element,property,maximumLength){element=$(element);maximumLength=maximumLength||-1;var elements=[];while(element=element[property]){if(element.nodeType===Node.ELEMENT_NODE)elements.push(Element.extend(element));if(elements.length===maximumLength)break}return elements}function ancestors(element){return recursivelyCollect(element,"parentNode")}function descendants(element){return Element.select(element,"*")}function firstDescendant(element){element=$(element).firstChild;while(element&&element.nodeType!==Node.ELEMENT_NODE)element=element.nextSibling;return $(element)}function immediateDescendants(element){var results=[],child=$(element).firstChild;while(child){if(child.nodeType===Node.ELEMENT_NODE)results.push(Element.extend(child));child=child.nextSibling}return results}function previousSiblings(element){return recursivelyCollect(element,"previousSibling")}function nextSiblings(element){return recursivelyCollect(element,"nextSibling")}function siblings(element){element=$(element);var previous=previousSiblings(element),next=nextSiblings(element);return previous.reverse().concat(next)}function match(element,selector){element=$(element);if(Object.isString(selector))return Prototype.Selector.match(element,selector);return selector.match(element)}function _recursivelyFind(element,property,expression,index){element=$(element),expression=expression||0,index=index||0;if(Object.isNumber(expression)){index=expression,expression=null}while(element=element[property]){if(element.nodeType!==1)continue;if(expression&&!Prototype.Selector.match(element,expression))continue;if(--index>=0)continue;return Element.extend(element)}}function up(element,expression,index){element=$(element);if(arguments.length===1)return $(element.parentNode);return _recursivelyFind(element,"parentNode",expression,index)}function down(element,expression,index){if(arguments.length===1)return firstDescendant(element);element=$(element),expression=expression||0,index=index||0;if(Object.isNumber(expression))index=expression,expression="*";var node=Prototype.Selector.select(expression,element)[index];return Element.extend(node)}function previous(element,expression,index){return _recursivelyFind(element,"previousSibling",expression,index)}function next(element,expression,index){return _recursivelyFind(element,"nextSibling",expression,index)}function select(element){element=$(element);var expressions=SLICE.call(arguments,1).join(", ");return Prototype.Selector.select(expressions,element)}function adjacent(element){element=$(element);var expressions=SLICE.call(arguments,1).join(", ");var siblings=Element.siblings(element),results=[];for(var i=0,sibling;sibling=siblings[i];i++){if(Prototype.Selector.match(sibling,expressions))results.push(sibling)}return results}function descendantOf_DOM(element,ancestor){element=$(element),ancestor=$(ancestor);while(element=element.parentNode)if(element===ancestor)return true;return false}function descendantOf_contains(element,ancestor){element=$(element),ancestor=$(ancestor);if(!ancestor.contains)return descendantOf_DOM(element,ancestor);return ancestor.contains(element)&&ancestor!==element}function descendantOf_compareDocumentPosition(element,ancestor){element=$(element),ancestor=$(ancestor);return(element.compareDocumentPosition(ancestor)&8)===8}var descendantOf;if(DIV.compareDocumentPosition){descendantOf=descendantOf_compareDocumentPosition}else if(DIV.contains){descendantOf=descendantOf_contains}else{descendantOf=descendantOf_DOM}Object.extend(methods,{recursivelyCollect:recursivelyCollect,ancestors:ancestors,descendants:descendants,firstDescendant:firstDescendant,immediateDescendants:immediateDescendants,previousSiblings:previousSiblings,nextSiblings:nextSiblings,siblings:siblings,match:match,up:up,down:down,previous:previous,next:next,select:select,adjacent:adjacent,descendantOf:descendantOf,getElementsBySelector:select,childElements:immediateDescendants});var idCounter=1;function identify(element){element=$(element);var id=Element.readAttribute(element,"id");if(id)return id;do{id="anonymous_element_"+idCounter++}while($(id));Element.writeAttribute(element,"id",id);return id}function readAttribute(element,name){return $(element).getAttribute(name)}function readAttribute_IE(element,name){element=$(element);var table=ATTRIBUTE_TRANSLATIONS.read;if(table.values[name])return table.values[name](element,name);if(table.names[name])name=table.names[name];if(name.include(":")){if(!element.attributes||!element.attributes[name])return null;return element.attributes[name].value}return element.getAttribute(name)}function readAttribute_Opera(element,name){if(name==="title")return element.title;return element.getAttribute(name)}var PROBLEMATIC_ATTRIBUTE_READING=function(){DIV.setAttribute("onclick",[]);var value=DIV.getAttribute("onclick");var isFunction=Object.isArray(value);DIV.removeAttribute("onclick");return isFunction}();if(PROBLEMATIC_ATTRIBUTE_READING){readAttribute=readAttribute_IE}else if(Prototype.Browser.Opera){readAttribute=readAttribute_Opera}function writeAttribute(element,name,value){element=$(element);var attributes={},table=ATTRIBUTE_TRANSLATIONS.write;if(typeof name==="object"){attributes=name}else{attributes[name]=Object.isUndefined(value)?true:value}for(var attr in attributes){name=table.names[attr]||attr;value=attributes[attr];if(table.values[attr])name=table.values[attr](element,value)||name;if(value===false||value===null)element.removeAttribute(name);else if(value===true)element.setAttribute(name,name);else element.setAttribute(name,value)}return element}var PROBLEMATIC_HAS_ATTRIBUTE_WITH_CHECKBOXES=function(){if(!HAS_EXTENDED_CREATE_ELEMENT_SYNTAX){return false}var checkbox=document.createElement('');checkbox.checked=true;var node=checkbox.getAttributeNode("checked");return!node||!node.specified}();function hasAttribute(element,attribute){attribute=ATTRIBUTE_TRANSLATIONS.has[attribute]||attribute;var node=$(element).getAttributeNode(attribute);return!!(node&&node.specified)}function hasAttribute_IE(element,attribute){if(attribute==="checked"){return element.checked}return hasAttribute(element,attribute)}GLOBAL.Element.Methods.Simulated.hasAttribute=PROBLEMATIC_HAS_ATTRIBUTE_WITH_CHECKBOXES?hasAttribute_IE:hasAttribute;function classNames(element){return new Element.ClassNames(element)}var regExpCache={};function getRegExpForClassName(className){if(regExpCache[className])return regExpCache[className];var re=new RegExp("(^|\\s+)"+className+"(\\s+|$)");regExpCache[className]=re;return re}function hasClassName(element,className){if(!(element=$(element)))return;var elementClassName=element.className;if(elementClassName.length===0)return false;if(elementClassName===className)return true;return getRegExpForClassName(className).test(elementClassName)}function addClassName(element,className){if(!(element=$(element)))return;if(!hasClassName(element,className))element.className+=(element.className?" ":"")+className;return element}function removeClassName(element,className){if(!(element=$(element)))return;element.className=element.className.replace(getRegExpForClassName(className)," ").strip();return element}function toggleClassName(element,className,bool){if(!(element=$(element)))return;if(Object.isUndefined(bool))bool=!hasClassName(element,className);var method=Element[bool?"addClassName":"removeClassName"];return method(element,className)}var ATTRIBUTE_TRANSLATIONS={};var classProp="className",forProp="for";DIV.setAttribute(classProp,"x");if(DIV.className!=="x"){DIV.setAttribute("class","x");if(DIV.className==="x")classProp="class"}var LABEL=document.createElement("label");LABEL.setAttribute(forProp,"x");if(LABEL.htmlFor!=="x"){LABEL.setAttribute("htmlFor","x");if(LABEL.htmlFor==="x")forProp="htmlFor"}LABEL=null;function _getAttr(element,attribute){return element.getAttribute(attribute)}function _getAttr2(element,attribute){return element.getAttribute(attribute,2)}function _getAttrNode(element,attribute){var node=element.getAttributeNode(attribute);return node?node.value:""}function _getFlag(element,attribute){return $(element).hasAttribute(attribute)?attribute:null}DIV.onclick=Prototype.emptyFunction;var onclickValue=DIV.getAttribute("onclick");var _getEv;if(String(onclickValue).indexOf("{")>-1){_getEv=function(element,attribute){var value=element.getAttribute(attribute);if(!value)return null;value=value.toString();value=value.split("{")[1];value=value.split("}")[0];return value.strip()}}else if(onclickValue===""){_getEv=function(element,attribute){var value=element.getAttribute(attribute);if(!value)return null;return value.strip()}}ATTRIBUTE_TRANSLATIONS.read={names:{class:classProp,className:classProp,for:forProp,htmlFor:forProp},values:{style:function(element){return element.style.cssText.toLowerCase()},title:function(element){return element.title}}};ATTRIBUTE_TRANSLATIONS.write={names:{className:"class",htmlFor:"for",cellpadding:"cellPadding",cellspacing:"cellSpacing"},values:{checked:function(element,value){element.checked=!!value},style:function(element,value){element.style.cssText=value?value:""}}};ATTRIBUTE_TRANSLATIONS.has={names:{}};Object.extend(ATTRIBUTE_TRANSLATIONS.write.names,ATTRIBUTE_TRANSLATIONS.read.names);var CAMEL_CASED_ATTRIBUTE_NAMES=$w("colSpan rowSpan vAlign dateTime "+"accessKey tabIndex encType maxLength readOnly longDesc frameBorder");for(var i=0,attr;attr=CAMEL_CASED_ATTRIBUTE_NAMES[i];i++){ATTRIBUTE_TRANSLATIONS.write.names[attr.toLowerCase()]=attr;ATTRIBUTE_TRANSLATIONS.has.names[attr.toLowerCase()]=attr}Object.extend(ATTRIBUTE_TRANSLATIONS.read.values,{href:_getAttr2,src:_getAttr2,type:_getAttr,action:_getAttrNode,disabled:_getFlag,checked:_getFlag,readonly:_getFlag,multiple:_getFlag,onload:_getEv,onunload:_getEv,onclick:_getEv,ondblclick:_getEv,onmousedown:_getEv,onmouseup:_getEv,onmouseover:_getEv,onmousemove:_getEv,onmouseout:_getEv,onfocus:_getEv,onblur:_getEv,onkeypress:_getEv,onkeydown:_getEv,onkeyup:_getEv,onsubmit:_getEv,onreset:_getEv,onselect:_getEv,onchange:_getEv});Object.extend(methods,{identify:identify,readAttribute:readAttribute,writeAttribute:writeAttribute,classNames:classNames,hasClassName:hasClassName,addClassName:addClassName,removeClassName:removeClassName,toggleClassName:toggleClassName});function normalizeStyleName(style){if(style==="float"||style==="styleFloat")return"cssFloat";return style.camelize()}function normalizeStyleName_IE(style){if(style==="float"||style==="cssFloat")return"styleFloat";return style.camelize()}function setStyle(element,styles){element=$(element);var elementStyle=element.style,match;if(Object.isString(styles)){elementStyle.cssText+=";"+styles;if(styles.include("opacity")){var opacity=styles.match(/opacity:\s*(\d?\.?\d*)/)[1];Element.setOpacity(element,opacity)}return element}for(var property in styles){if(property==="opacity"){Element.setOpacity(element,styles[property])}else{var value=styles[property];if(property==="float"||property==="cssFloat"){property=Object.isUndefined(elementStyle.styleFloat)?"cssFloat":"styleFloat"}elementStyle[property]=value}}return element}function getStyle(element,style){element=$(element);style=normalizeStyleName(style);var value=element.style[style];if(!value||value==="auto"){var css=document.defaultView.getComputedStyle(element,null);value=css?css[style]:null}if(style==="opacity")return value?parseFloat(value):1;return value==="auto"?null:value}function getStyle_Opera(element,style){switch(style){case"height":case"width":if(!Element.visible(element))return null;var dim=parseInt(getStyle(element,style),10);if(dim!==element["offset"+style.capitalize()])return dim+"px";return Element.measure(element,style);default:return getStyle(element,style)}}function getStyle_IE(element,style){element=$(element);style=normalizeStyleName_IE(style);var value=element.style[style];if(!value&&element.currentStyle){value=element.currentStyle[style]}if(style==="opacity"&&!STANDARD_CSS_OPACITY_SUPPORTED)return getOpacity_IE(element);if(value==="auto"){if((style==="width"||style==="height")&&Element.visible(element))return Element.measure(element,style)+"px";return null}return value}function stripAlphaFromFilter_IE(filter){return(filter||"").replace(/alpha\([^\)]*\)/gi,"")}function hasLayout_IE(element){if(!element.currentStyle||!element.currentStyle.hasLayout)element.style.zoom=1;return element}var STANDARD_CSS_OPACITY_SUPPORTED=function(){DIV.style.cssText="opacity:.55";return/^0.55/.test(DIV.style.opacity)}();function setOpacity(element,value){element=$(element);if(value==1||value==="")value="";else if(value<1e-5)value=0;element.style.opacity=value;return element}function setOpacity_IE(element,value){if(STANDARD_CSS_OPACITY_SUPPORTED)return setOpacity(element,value);element=hasLayout_IE($(element));var filter=Element.getStyle(element,"filter"),style=element.style;if(value==1||value===""){filter=stripAlphaFromFilter_IE(filter);if(filter)style.filter=filter;else style.removeAttribute("filter");return element}if(value<1e-5)value=0;style.filter=stripAlphaFromFilter_IE(filter)+"alpha(opacity="+value*100+")";return element}function getOpacity(element){return Element.getStyle(element,"opacity")}function getOpacity_IE(element){if(STANDARD_CSS_OPACITY_SUPPORTED)return getOpacity(element);var filter=Element.getStyle(element,"filter");if(filter.length===0)return 1;var match=(filter||"").match(/alpha\(opacity=(.*)\)/);if(match&&match[1])return parseFloat(match[1])/100;return 1}Object.extend(methods,{setStyle:setStyle,getStyle:getStyle,setOpacity:setOpacity,getOpacity:getOpacity});if("styleFloat"in DIV.style){methods.getStyle=getStyle_IE;methods.setOpacity=setOpacity_IE;methods.getOpacity=getOpacity_IE}var UID=0;GLOBAL.Element.Storage={UID:1};function getUniqueElementID(element){if(element===window)return 0;if(typeof element._prototypeUID==="undefined")element._prototypeUID=Element.Storage.UID++;return element._prototypeUID}function getUniqueElementID_IE(element){if(element===window)return 0;if(element==document)return 1;return element.uniqueID}var HAS_UNIQUE_ID_PROPERTY="uniqueID"in DIV;if(HAS_UNIQUE_ID_PROPERTY)getUniqueElementID=getUniqueElementID_IE;function getStorage(element){if(!(element=$(element)))return;var uid=getUniqueElementID(element);if(!Element.Storage[uid])Element.Storage[uid]=$H();return Element.Storage[uid]}function store(element,key,value){if(!(element=$(element)))return;var storage=getStorage(element);if(arguments.length===2){storage.update(key)}else{storage.set(key,value)}return element}function retrieve(element,key,defaultValue){if(!(element=$(element)))return;var storage=getStorage(element),value=storage.get(key);if(Object.isUndefined(value)){storage.set(key,defaultValue);value=defaultValue}return value}Object.extend(methods,{getStorage:getStorage,store:store,retrieve:retrieve});var Methods={},ByTag=Element.Methods.ByTag,F=Prototype.BrowserFeatures;if(!F.ElementExtensions&&"__proto__"in DIV){GLOBAL.HTMLElement={};GLOBAL.HTMLElement.prototype=DIV["__proto__"];F.ElementExtensions=true}function checkElementPrototypeDeficiency(tagName){if(typeof window.Element==="undefined")return false;if(!HAS_EXTENDED_CREATE_ELEMENT_SYNTAX)return false;var proto=window.Element.prototype;if(proto){var id="_"+(Math.random()+"").slice(2),el=document.createElement(tagName);proto[id]="x";var isBuggy=el[id]!=="x";delete proto[id];el=null;return isBuggy}return false}var HTMLOBJECTELEMENT_PROTOTYPE_BUGGY=checkElementPrototypeDeficiency("object");function extendElementWith(element,methods){for(var property in methods){var value=methods[property];if(Object.isFunction(value)&&!(property in element))element[property]=value.methodize()}}var EXTENDED={};function elementIsExtended(element){var uid=getUniqueElementID(element);return uid in EXTENDED}function extend(element){if(!element||elementIsExtended(element))return element;if(element.nodeType!==Node.ELEMENT_NODE||element==window)return element;var methods=Object.clone(Methods),tagName=element.tagName.toUpperCase();if(ByTag[tagName])Object.extend(methods,ByTag[tagName]);extendElementWith(element,methods);EXTENDED[getUniqueElementID(element)]=true;return element}function extend_IE8(element){if(!element||elementIsExtended(element))return element;var t=element.tagName;if(t&&/^(?:object|applet|embed)$/i.test(t)){extendElementWith(element,Element.Methods);extendElementWith(element,Element.Methods.Simulated);extendElementWith(element,Element.Methods.ByTag[t.toUpperCase()])}return element}if(F.SpecificElementExtensions){extend=HTMLOBJECTELEMENT_PROTOTYPE_BUGGY?extend_IE8:Prototype.K}function addMethodsToTagName(tagName,methods){tagName=tagName.toUpperCase();if(!ByTag[tagName])ByTag[tagName]={};Object.extend(ByTag[tagName],methods)}function mergeMethods(destination,methods,onlyIfAbsent){if(Object.isUndefined(onlyIfAbsent))onlyIfAbsent=false;for(var property in methods){var value=methods[property];if(!Object.isFunction(value))continue;if(!onlyIfAbsent||!(property in destination))destination[property]=value.methodize()}}function findDOMClass(tagName){var klass;var trans={OPTGROUP:"OptGroup",TEXTAREA:"TextArea",P:"Paragraph",FIELDSET:"FieldSet",UL:"UList",OL:"OList",DL:"DList",DIR:"Directory",H1:"Heading",H2:"Heading",H3:"Heading",H4:"Heading",H5:"Heading",H6:"Heading",Q:"Quote",INS:"Mod",DEL:"Mod",A:"Anchor",IMG:"Image",CAPTION:"TableCaption",COL:"TableCol",COLGROUP:"TableCol",THEAD:"TableSection",TFOOT:"TableSection",TBODY:"TableSection",TR:"TableRow",TH:"TableCell",TD:"TableCell",FRAMESET:"FrameSet",IFRAME:"IFrame"};if(trans[tagName])klass="HTML"+trans[tagName]+"Element";if(window[klass])return window[klass];klass="HTML"+tagName+"Element";if(window[klass])return window[klass];klass="HTML"+tagName.capitalize()+"Element";if(window[klass])return window[klass];var element=document.createElement(tagName),proto=element["__proto__"]||element.constructor.prototype;element=null;return proto}function addMethods(methods){if(arguments.length===0)addFormMethods();if(arguments.length===2){var tagName=methods;methods=arguments[1]}if(!tagName){Object.extend(Element.Methods,methods||{})}else{if(Object.isArray(tagName)){for(var i=0,tag;tag=tagName[i];i++)addMethodsToTagName(tag,methods)}else{addMethodsToTagName(tagName,methods)}}var ELEMENT_PROTOTYPE=window.HTMLElement?HTMLElement.prototype:Element.prototype;if(F.ElementExtensions){mergeMethods(ELEMENT_PROTOTYPE,Element.Methods);mergeMethods(ELEMENT_PROTOTYPE,Element.Methods.Simulated,true)}if(F.SpecificElementExtensions){for(var tag in Element.Methods.ByTag){var klass=findDOMClass(tag);if(Object.isUndefined(klass))continue;mergeMethods(klass.prototype,ByTag[tag])}}Object.extend(Element,Element.Methods);Object.extend(Element,Element.Methods.Simulated);delete Element.ByTag;delete Element.Simulated;Element.extend.refresh();ELEMENT_CACHE={}}Object.extend(GLOBAL.Element,{extend:extend,addMethods:addMethods});if(extend===Prototype.K){GLOBAL.Element.extend.refresh=Prototype.emptyFunction}else{GLOBAL.Element.extend.refresh=function(){if(Prototype.BrowserFeatures.ElementExtensions)return;Object.extend(Methods,Element.Methods);Object.extend(Methods,Element.Methods.Simulated);EXTENDED={}}}function addFormMethods(){Object.extend(Form,Form.Methods);Object.extend(Form.Element,Form.Element.Methods);Object.extend(Element.Methods.ByTag,{FORM:Object.clone(Form.Methods),INPUT:Object.clone(Form.Element.Methods),SELECT:Object.clone(Form.Element.Methods),TEXTAREA:Object.clone(Form.Element.Methods),BUTTON:Object.clone(Form.Element.Methods)})}Element.addMethods(methods);function destroyCache_IE(){DIV=null;ELEMENT_CACHE=null}if(window.attachEvent)window.attachEvent("onunload",destroyCache_IE)})(this);(function(){function toDecimal(pctString){var match=pctString.match(/^(\d+)%?$/i);if(!match)return null;return Number(match[1])/100}function getRawStyle(element,style){element=$(element);var value=element.style[style];if(!value||value==="auto"){var css=document.defaultView.getComputedStyle(element,null);value=css?css[style]:null}if(style==="opacity")return value?parseFloat(value):1;return value==="auto"?null:value}function getRawStyle_IE(element,style){var value=element.style[style];if(!value&&element.currentStyle){value=element.currentStyle[style]}return value}function getContentWidth(element,context){var boxWidth=element.offsetWidth;var bl=getPixelValue(element,"borderLeftWidth",context)||0;var br=getPixelValue(element,"borderRightWidth",context)||0;var pl=getPixelValue(element,"paddingLeft",context)||0;var pr=getPixelValue(element,"paddingRight",context)||0;return boxWidth-bl-br-pl-pr}if("currentStyle"in document.documentElement){getRawStyle=getRawStyle_IE}function getPixelValue(value,property,context){var element=null;if(Object.isElement(value)){element=value;value=getRawStyle(element,property)}if(value===null||Object.isUndefined(value)){return null}if(/^(?:-)?\d+(\.\d+)?(px)?$/i.test(value)){return window.parseFloat(value)}var isPercentage=value.include("%"),isViewport=context===document.viewport;if(/\d/.test(value)&&element&&element.runtimeStyle&&!(isPercentage&&isViewport)){var style=element.style.left,rStyle=element.runtimeStyle.left;element.runtimeStyle.left=element.currentStyle.left;element.style.left=value||0;value=element.style.pixelLeft;element.style.left=style;element.runtimeStyle.left=rStyle;return value}if(element&&isPercentage){context=context||element.parentNode;var decimal=toDecimal(value),whole=null;var isHorizontal=property.include("left")||property.include("right")||property.include("width");var isVertical=property.include("top")||property.include("bottom")||property.include("height");if(context===document.viewport){if(isHorizontal){whole=document.viewport.getWidth()}else if(isVertical){whole=document.viewport.getHeight()}}else{if(isHorizontal){whole=$(context).measure("width")}else if(isVertical){whole=$(context).measure("height")}}return whole===null?0:whole*decimal}return 0}function toCSSPixels(number){if(Object.isString(number)&&number.endsWith("px"))return number;return number+"px"}function isDisplayed(element){while(element&&element.parentNode){var display=element.getStyle("display");if(display==="none"){return false}element=$(element.parentNode)}return true}var hasLayout=Prototype.K;if("currentStyle"in document.documentElement){hasLayout=function(element){if(!element.currentStyle.hasLayout){element.style.zoom=1}return element}}function cssNameFor(key){if(key.include("border"))key=key+"-width";return key.camelize()}Element.Layout=Class.create(Hash,{initialize:function($super,element,preCompute){$super();this.element=$(element);Element.Layout.PROPERTIES.each(function(property){this._set(property,null)},this);if(preCompute){this._preComputing=true;this._begin();Element.Layout.PROPERTIES.each(this._compute,this);this._end();this._preComputing=false}},_set:function(property,value){return Hash.prototype.set.call(this,property,value)},set:function(property,value){throw"Properties of Element.Layout are read-only."},get:function($super,property){var value=$super(property);return value===null?this._compute(property):value},_begin:function(){if(this._isPrepared())return;var element=this.element;if(isDisplayed(element)){this._setPrepared(true);return}var originalStyles={position:element.style.position||"",width:element.style.width||"",visibility:element.style.visibility||"",display:element.style.display||""};element.store("prototype_original_styles",originalStyles);var position=getRawStyle(element,"position"),width=element.offsetWidth;if(width===0||width===null){element.style.display="block";width=element.offsetWidth}var context=position==="fixed"?document.viewport:element.parentNode;var tempStyles={visibility:"hidden",display:"block"};if(position!=="fixed")tempStyles.position="absolute";element.setStyle(tempStyles);var positionedWidth=element.offsetWidth,newWidth;if(width&&positionedWidth===width){newWidth=getContentWidth(element,context)}else if(position==="absolute"||position==="fixed"){newWidth=getContentWidth(element,context)}else{var parent=element.parentNode,pLayout=$(parent).getLayout();newWidth=pLayout.get("width")-this.get("margin-left")-this.get("border-left")-this.get("padding-left")-this.get("padding-right")-this.get("border-right")-this.get("margin-right")}element.setStyle({width:newWidth+"px"});this._setPrepared(true)},_end:function(){var element=this.element;var originalStyles=element.retrieve("prototype_original_styles");element.store("prototype_original_styles",null);element.setStyle(originalStyles);this._setPrepared(false)},_compute:function(property){var COMPUTATIONS=Element.Layout.COMPUTATIONS;if(!(property in COMPUTATIONS)){throw"Property not found."}return this._set(property,COMPUTATIONS[property].call(this,this.element))},_isPrepared:function(){return this.element.retrieve("prototype_element_layout_prepared",false)},_setPrepared:function(bool){return this.element.store("prototype_element_layout_prepared",bool)},toObject:function(){var args=$A(arguments);var keys=args.length===0?Element.Layout.PROPERTIES:args.join(" ").split(" ");var obj={};keys.each(function(key){if(!Element.Layout.PROPERTIES.include(key))return;var value=this.get(key);if(value!=null)obj[key]=value},this);return obj},toHash:function(){var obj=this.toObject.apply(this,arguments);return new Hash(obj)},toCSS:function(){var args=$A(arguments);var keys=args.length===0?Element.Layout.PROPERTIES:args.join(" ").split(" ");var css={};keys.each(function(key){if(!Element.Layout.PROPERTIES.include(key))return;if(Element.Layout.COMPOSITE_PROPERTIES.include(key))return;var value=this.get(key);if(value!=null)css[cssNameFor(key)]=value+"px"},this);return css},inspect:function(){return"#"}});Object.extend(Element.Layout,{PROPERTIES:$w("height width top left right bottom border-left border-right border-top border-bottom padding-left padding-right padding-top padding-bottom margin-top margin-bottom margin-left margin-right padding-box-width padding-box-height border-box-width border-box-height margin-box-width margin-box-height"),COMPOSITE_PROPERTIES:$w("padding-box-width padding-box-height margin-box-width margin-box-height border-box-width border-box-height"),COMPUTATIONS:{height:function(element){if(!this._preComputing)this._begin();var bHeight=this.get("border-box-height");if(bHeight<=0){if(!this._preComputing)this._end();return 0}var bTop=this.get("border-top"),bBottom=this.get("border-bottom");var pTop=this.get("padding-top"),pBottom=this.get("padding-bottom");if(!this._preComputing)this._end();return bHeight-bTop-bBottom-pTop-pBottom},width:function(element){if(!this._preComputing)this._begin();var bWidth=this.get("border-box-width");if(bWidth<=0){if(!this._preComputing)this._end();return 0}var bLeft=this.get("border-left"),bRight=this.get("border-right");var pLeft=this.get("padding-left"),pRight=this.get("padding-right");if(!this._preComputing)this._end();return bWidth-bLeft-bRight-pLeft-pRight},"padding-box-height":function(element){var height=this.get("height"),pTop=this.get("padding-top"),pBottom=this.get("padding-bottom");return height+pTop+pBottom},"padding-box-width":function(element){var width=this.get("width"),pLeft=this.get("padding-left"),pRight=this.get("padding-right");return width+pLeft+pRight},"border-box-height":function(element){if(!this._preComputing)this._begin();var height=element.offsetHeight;if(!this._preComputing)this._end();return height},"border-box-width":function(element){if(!this._preComputing)this._begin();var width=element.offsetWidth;if(!this._preComputing)this._end();return width},"margin-box-height":function(element){var bHeight=this.get("border-box-height"),mTop=this.get("margin-top"),mBottom=this.get("margin-bottom");if(bHeight<=0)return 0;return bHeight+mTop+mBottom},"margin-box-width":function(element){var bWidth=this.get("border-box-width"),mLeft=this.get("margin-left"),mRight=this.get("margin-right");if(bWidth<=0)return 0;return bWidth+mLeft+mRight},top:function(element){var offset=element.positionedOffset();return offset.top},bottom:function(element){var offset=element.positionedOffset(),parent=element.getOffsetParent(),pHeight=parent.measure("height");var mHeight=this.get("border-box-height");return pHeight-mHeight-offset.top},left:function(element){var offset=element.positionedOffset();return offset.left},right:function(element){var offset=element.positionedOffset(),parent=element.getOffsetParent(),pWidth=parent.measure("width");var mWidth=this.get("border-box-width");return pWidth-mWidth-offset.left},"padding-top":function(element){return getPixelValue(element,"paddingTop")},"padding-bottom":function(element){return getPixelValue(element,"paddingBottom")},"padding-left":function(element){return getPixelValue(element,"paddingLeft")},"padding-right":function(element){return getPixelValue(element,"paddingRight")},"border-top":function(element){return getPixelValue(element,"borderTopWidth")},"border-bottom":function(element){return getPixelValue(element,"borderBottomWidth")},"border-left":function(element){return getPixelValue(element,"borderLeftWidth")},"border-right":function(element){return getPixelValue(element,"borderRightWidth")},"margin-top":function(element){return getPixelValue(element,"marginTop")},"margin-bottom":function(element){return getPixelValue(element,"marginBottom")},"margin-left":function(element){return getPixelValue(element,"marginLeft")},"margin-right":function(element){return getPixelValue(element,"marginRight")}}});if("getBoundingClientRect"in document.documentElement){Object.extend(Element.Layout.COMPUTATIONS,{right:function(element){var parent=hasLayout(element.getOffsetParent());var rect=element.getBoundingClientRect(),pRect=parent.getBoundingClientRect();return(pRect.right-rect.right).round()},bottom:function(element){var parent=hasLayout(element.getOffsetParent());var rect=element.getBoundingClientRect(),pRect=parent.getBoundingClientRect();return(pRect.bottom-rect.bottom).round()}})}Element.Offset=Class.create({initialize:function(left,top){this.left=left.round();this.top=top.round();this[0]=this.left;this[1]=this.top},relativeTo:function(offset){return new Element.Offset(this.left-offset.left,this.top-offset.top)},inspect:function(){return"#".interpolate(this)},toString:function(){return"[#{left}, #{top}]".interpolate(this)},toArray:function(){return[this.left,this.top]}});function getLayout(element,preCompute){return new Element.Layout(element,preCompute)}function measure(element,property){return $(element).getLayout().get(property)}function getHeight(element){return Element.getDimensions(element).height}function getWidth(element){return Element.getDimensions(element).width}function getDimensions(element){element=$(element);var display=Element.getStyle(element,"display");if(display&&display!=="none"){return{width:element.offsetWidth,height:element.offsetHeight}}var style=element.style;var originalStyles={visibility:style.visibility,position:style.position,display:style.display};var newStyles={visibility:"hidden",display:"block"};if(originalStyles.position!=="fixed")newStyles.position="absolute";Element.setStyle(element,newStyles);var dimensions={width:element.offsetWidth,height:element.offsetHeight};Element.setStyle(element,originalStyles);return dimensions}function getOffsetParent(element){element=$(element);if(isDocument(element)||isDetached(element)||isBody(element)||isHtml(element))return $(document.body);var isInline=Element.getStyle(element,"display")==="inline";if(!isInline&&element.offsetParent)return $(element.offsetParent);while((element=element.parentNode)&&element!==document.body){if(Element.getStyle(element,"position")!=="static"){return isHtml(element)?$(document.body):$(element)}}return $(document.body)}function cumulativeOffset(element){element=$(element);var valueT=0,valueL=0;if(element.parentNode){do{valueT+=element.offsetTop||0;valueL+=element.offsetLeft||0;element=element.offsetParent}while(element)}return new Element.Offset(valueL,valueT)}function positionedOffset(element){element=$(element);var layout=element.getLayout();var valueT=0,valueL=0;do{valueT+=element.offsetTop||0;valueL+=element.offsetLeft||0;element=element.offsetParent;if(element){if(isBody(element))break;var p=Element.getStyle(element,"position");if(p!=="static")break}}while(element);valueL-=layout.get("margin-top");valueT-=layout.get("margin-left");return new Element.Offset(valueL,valueT)}function cumulativeScrollOffset(element){var valueT=0,valueL=0;do{if(element===document.body){var bodyScrollNode=document.documentElement||document.body.parentNode||document.body;valueT+=!Object.isUndefined(window.pageYOffset)?window.pageYOffset:bodyScrollNode.scrollTop||0;valueL+=!Object.isUndefined(window.pageXOffset)?window.pageXOffset:bodyScrollNode.scrollLeft||0;break}else{valueT+=element.scrollTop||0;valueL+=element.scrollLeft||0;element=element.parentNode}}while(element);return new Element.Offset(valueL,valueT)}function viewportOffset(forElement){var valueT=0,valueL=0,docBody=document.body;forElement=$(forElement);var element=forElement;do{valueT+=element.offsetTop||0;valueL+=element.offsetLeft||0;if(element.offsetParent==docBody&&Element.getStyle(element,"position")=="absolute")break}while(element=element.offsetParent);element=forElement;do{if(element!=docBody){valueT-=element.scrollTop||0;valueL-=element.scrollLeft||0}}while(element=element.parentNode);return new Element.Offset(valueL,valueT)}function absolutize(element){element=$(element);if(Element.getStyle(element,"position")==="absolute"){return element}var offsetParent=getOffsetParent(element);var eOffset=element.viewportOffset(),pOffset=offsetParent.viewportOffset();var offset=eOffset.relativeTo(pOffset);var layout=element.getLayout();element.store("prototype_absolutize_original_styles",{position:element.getStyle("position"),left:element.getStyle("left"),top:element.getStyle("top"),width:element.getStyle("width"),height:element.getStyle("height")});element.setStyle({position:"absolute",top:offset.top+"px",left:offset.left+"px",width:layout.get("width")+"px",height:layout.get("height")+"px"});return element}function relativize(element){element=$(element);if(Element.getStyle(element,"position")==="relative"){return element}var originalStyles=element.retrieve("prototype_absolutize_original_styles");if(originalStyles)element.setStyle(originalStyles);return element}function scrollTo(element){element=$(element);var pos=Element.cumulativeOffset(element);window.scrollTo(pos.left,pos.top);return element}function makePositioned(element){element=$(element);var position=Element.getStyle(element,"position"),styles={};if(position==="static"||!position){styles.position="relative";if(Prototype.Browser.Opera){styles.top=0;styles.left=0}Element.setStyle(element,styles);Element.store(element,"prototype_made_positioned",true)}return element}function undoPositioned(element){element=$(element);var storage=Element.getStorage(element),madePositioned=storage.get("prototype_made_positioned");if(madePositioned){storage.unset("prototype_made_positioned");Element.setStyle(element,{position:"",top:"",bottom:"",left:"",right:""})}return element}function makeClipping(element){element=$(element);var storage=Element.getStorage(element),madeClipping=storage.get("prototype_made_clipping");if(Object.isUndefined(madeClipping)){var overflow=Element.getStyle(element,"overflow");storage.set("prototype_made_clipping",overflow);if(overflow!=="hidden")element.style.overflow="hidden"}return element}function undoClipping(element){element=$(element);var storage=Element.getStorage(element),overflow=storage.get("prototype_made_clipping");if(!Object.isUndefined(overflow)){storage.unset("prototype_made_clipping");element.style.overflow=overflow||""}return element}function clonePosition(element,source,options){options=Object.extend({setLeft:true,setTop:true,setWidth:true,setHeight:true,offsetTop:0,offsetLeft:0},options||{});source=$(source);element=$(element);var p,delta,layout,styles={};if(options.setLeft||options.setTop){p=Element.viewportOffset(source);delta=[0,0];if(Element.getStyle(element,"position")==="absolute"){var parent=Element.getOffsetParent(element);if(parent!==document.body)delta=Element.viewportOffset(parent)}}if(options.setWidth||options.setHeight){layout=Element.getLayout(source)}if(options.setLeft)styles.left=p[0]-delta[0]+options.offsetLeft+"px";if(options.setTop)styles.top=p[1]-delta[1]+options.offsetTop+"px";if(options.setWidth)styles.width=layout.get("border-box-width")+"px";if(options.setHeight)styles.height=layout.get("border-box-height")+"px";return Element.setStyle(element,styles)}if(Prototype.Browser.IE){getOffsetParent=getOffsetParent.wrap(function(proceed,element){element=$(element);if(isDocument(element)||isDetached(element)||isBody(element)||isHtml(element))return $(document.body);var position=element.getStyle("position");if(position!=="static")return proceed(element);element.setStyle({position:"relative"});var value=proceed(element);element.setStyle({position:position});return value});positionedOffset=positionedOffset.wrap(function(proceed,element){element=$(element);if(!element.parentNode)return new Element.Offset(0,0);var position=element.getStyle("position");if(position!=="static")return proceed(element);var offsetParent=element.getOffsetParent();if(offsetParent&&offsetParent.getStyle("position")==="fixed")hasLayout(offsetParent);element.setStyle({position:"relative"});var value=proceed(element);element.setStyle({position:position});return value})}else if(Prototype.Browser.Webkit){cumulativeOffset=function(element){element=$(element);var valueT=0,valueL=0;do{valueT+=element.offsetTop||0;valueL+=element.offsetLeft||0;if(element.offsetParent==document.body){if(Element.getStyle(element,"position")=="absolute")break}element=element.offsetParent}while(element);return new Element.Offset(valueL,valueT)}}Element.addMethods({getLayout:getLayout,measure:measure,getWidth:getWidth,getHeight:getHeight,getDimensions:getDimensions,getOffsetParent:getOffsetParent,cumulativeOffset:cumulativeOffset,positionedOffset:positionedOffset,cumulativeScrollOffset:cumulativeScrollOffset,viewportOffset:viewportOffset,absolutize:absolutize,relativize:relativize,scrollTo:scrollTo,makePositioned:makePositioned,undoPositioned:undoPositioned,makeClipping:makeClipping,undoClipping:undoClipping,clonePosition:clonePosition});function isBody(element){return element.nodeName.toUpperCase()==="BODY"}function isHtml(element){return element.nodeName.toUpperCase()==="HTML"}function isDocument(element){return element.nodeType===Node.DOCUMENT_NODE}function isDetached(element){return element!==document.body&&!Element.descendantOf(element,document.body)}if("getBoundingClientRect"in document.documentElement){Element.addMethods({viewportOffset:function(element){element=$(element);if(isDetached(element))return new Element.Offset(0,0);var rect=element.getBoundingClientRect(),docEl=document.documentElement;return new Element.Offset(rect.left-docEl.clientLeft,rect.top-docEl.clientTop)}})}})();(function(){var IS_OLD_OPERA=Prototype.Browser.Opera&&window.parseFloat(window.opera.version())<9.5;var ROOT=null;function getRootElement(){if(ROOT)return ROOT;ROOT=IS_OLD_OPERA?document.body:document.documentElement;return ROOT}function getDimensions(){return{width:this.getWidth(),height:this.getHeight()}}function getWidth(){return getRootElement().clientWidth}function getHeight(){return getRootElement().clientHeight}function getScrollOffsets(){var x=window.pageXOffset||document.documentElement.scrollLeft||document.body.scrollLeft;var y=window.pageYOffset||document.documentElement.scrollTop||document.body.scrollTop;return new Element.Offset(x,y)}document.viewport={getDimensions:getDimensions,getWidth:getWidth,getHeight:getHeight,getScrollOffsets:getScrollOffsets}})();window.$$=function(){var expression=$A(arguments).join(", ");return Prototype.Selector.select(expression,document)};Prototype.Selector=function(){function select(){throw new Error('Method "Prototype.Selector.select" must be defined.')}function match(){throw new Error('Method "Prototype.Selector.match" must be defined.')}function find(elements,expression,index){index=index||0;var match=Prototype.Selector.match,length=elements.length,matchIndex=0,i;for(i=0;i+~]|"+whitespace+")"+whitespace+"*"),rattributeQuotes=new RegExp("="+whitespace+"*([^\\]'\"]*?)"+whitespace+"*\\]","g"),rpseudo=new RegExp(pseudos),ridentifier=new RegExp("^"+identifier+"$"),matchExpr={ID:new RegExp("^#("+characterEncoding+")"),CLASS:new RegExp("^\\.("+characterEncoding+")"),TAG:new RegExp("^("+characterEncoding.replace("w","w*")+")"),ATTR:new RegExp("^"+attributes),PSEUDO:new RegExp("^"+pseudos),CHILD:new RegExp("^:(only|first|last|nth|nth-last)-(child|of-type)(?:\\("+whitespace+"*(even|odd|(([+-]|)(\\d*)n|)"+whitespace+"*(?:([+-]|)"+whitespace+"*(\\d+)|))"+whitespace+"*\\)|)","i"),bool:new RegExp("^(?:"+booleans+")$","i"),needsContext:new RegExp("^"+whitespace+"*[>+~]|:(even|odd|eq|gt|lt|nth|first|last)(?:\\("+whitespace+"*((?:-\\d)?\\d*)"+whitespace+"*\\)|)(?=[^-]|$)","i")},rinputs=/^(?:input|select|textarea|button)$/i,rheader=/^h\d$/i,rnative=/^[^{]+\{\s*\[native \w/,rquickExpr=/^(?:#([\w-]+)|(\w+)|\.([\w-]+))$/,rsibling=/[+~]/,rescape=/'|\\/g,runescape=new RegExp("\\\\([\\da-f]{1,6}"+whitespace+"?|("+whitespace+")|.)","ig"),funescape=function(_,escaped,escapedWhitespace){var high="0x"+escaped-65536;return high!==high||escapedWhitespace?escaped:high<0?String.fromCharCode(high+65536):String.fromCharCode(high>>10|55296,high&1023|56320)};try{push.apply(arr=slice.call(preferredDoc.childNodes),preferredDoc.childNodes);arr[preferredDoc.childNodes.length].nodeType}catch(e){push={apply:arr.length?function(target,els){push_native.apply(target,slice.call(els))}:function(target,els){var j=target.length,i=0;while(target[j++]=els[i++]){}target.length=j-1}}}function Sizzle(selector,context,results,seed){var match,elem,m,nodeType,i,groups,old,nid,newContext,newSelector;if((context?context.ownerDocument||context:preferredDoc)!==document){setDocument(context)}context=context||document;results=results||[];if(!selector||typeof selector!=="string"){return results}if((nodeType=context.nodeType)!==1&&nodeType!==9){return[]}if(documentIsHTML&&!seed){if(match=rquickExpr.exec(selector)){if(m=match[1]){if(nodeType===9){elem=context.getElementById(m);if(elem&&elem.parentNode){if(elem.id===m){results.push(elem);return results}}else{return results}}else{if(context.ownerDocument&&(elem=context.ownerDocument.getElementById(m))&&contains(context,elem)&&elem.id===m){results.push(elem);return results}}}else if(match[2]){push.apply(results,context.getElementsByTagName(selector));return results}else if((m=match[3])&&support.getElementsByClassName&&context.getElementsByClassName){push.apply(results,context.getElementsByClassName(m));return results}}if(support.qsa&&(!rbuggyQSA||!rbuggyQSA.test(selector))){nid=old=expando;newContext=context;newSelector=nodeType===9&&selector;if(nodeType===1&&context.nodeName.toLowerCase()!=="object"){groups=tokenize(selector);if(old=context.getAttribute("id")){nid=old.replace(rescape,"\\$&")}else{context.setAttribute("id",nid)}nid="[id='"+nid+"'] ";i=groups.length;while(i--){groups[i]=nid+toSelector(groups[i])}newContext=rsibling.test(selector)&&testContext(context.parentNode)||context;newSelector=groups.join(",")}if(newSelector){try{push.apply(results,newContext.querySelectorAll(newSelector));return results}catch(qsaError){}finally{if(!old){context.removeAttribute("id")}}}}}return select(selector.replace(rtrim,"$1"),context,results,seed)}function createCache(){var keys=[];function cache(key,value){if(keys.push(key+" ")>Expr.cacheLength){delete cache[keys.shift()]}return cache[key+" "]=value}return cache}function markFunction(fn){fn[expando]=true;return fn}function assert(fn){var div=document.createElement("div");try{return!!fn(div)}catch(e){return false}finally{if(div.parentNode){div.parentNode.removeChild(div)}div=null}}function addHandle(attrs,handler){var arr=attrs.split("|"),i=attrs.length;while(i--){Expr.attrHandle[arr[i]]=handler}}function siblingCheck(a,b){var cur=b&&a,diff=cur&&a.nodeType===1&&b.nodeType===1&&(~b.sourceIndex||MAX_NEGATIVE)-(~a.sourceIndex||MAX_NEGATIVE);if(diff){return diff}if(cur){while(cur=cur.nextSibling){if(cur===b){return-1}}}return a?1:-1}function createInputPseudo(type){return function(elem){var name=elem.nodeName.toLowerCase();return name==="input"&&elem.type===type}}function createButtonPseudo(type){return function(elem){var name=elem.nodeName.toLowerCase();return(name==="input"||name==="button")&&elem.type===type}}function createPositionalPseudo(fn){return markFunction(function(argument){argument=+argument;return markFunction(function(seed,matches){var j,matchIndexes=fn([],seed.length,argument),i=matchIndexes.length;while(i--){if(seed[j=matchIndexes[i]]){seed[j]=!(matches[j]=seed[j])}}})})}function testContext(context){return context&&typeof context.getElementsByTagName!==strundefined&&context}support=Sizzle.support={};isXML=Sizzle.isXML=function(elem){var documentElement=elem&&(elem.ownerDocument||elem).documentElement;return documentElement?documentElement.nodeName!=="HTML":false};setDocument=Sizzle.setDocument=function(node){var hasCompare,doc=node?node.ownerDocument||node:preferredDoc,parent=doc.defaultView;if(doc===document||doc.nodeType!==9||!doc.documentElement){return document}document=doc;docElem=doc.documentElement;documentIsHTML=!isXML(doc);if(parent&&parent!==parent.top){if(parent.addEventListener){parent.addEventListener("unload",function(){setDocument()},false)}else if(parent.attachEvent){parent.attachEvent("onunload",function(){setDocument()})}}support.attributes=assert(function(div){div.className="i";return!div.getAttribute("className")});support.getElementsByTagName=assert(function(div){div.appendChild(doc.createComment(""));return!div.getElementsByTagName("*").length});support.getElementsByClassName=rnative.test(doc.getElementsByClassName)&&assert(function(div){div.innerHTML="";div.firstChild.className="i";return div.getElementsByClassName("i").length===2});support.getById=assert(function(div){docElem.appendChild(div).id=expando;return!doc.getElementsByName||!doc.getElementsByName(expando).length});if(support.getById){Expr.find["ID"]=function(id,context){if(typeof context.getElementById!==strundefined&&documentIsHTML){var m=context.getElementById(id);return m&&m.parentNode?[m]:[]}};Expr.filter["ID"]=function(id){var attrId=id.replace(runescape,funescape);return function(elem){return elem.getAttribute("id")===attrId}}}else{delete Expr.find["ID"];Expr.filter["ID"]=function(id){var attrId=id.replace(runescape,funescape);return function(elem){var node=typeof elem.getAttributeNode!==strundefined&&elem.getAttributeNode("id");return node&&node.value===attrId}}}Expr.find["TAG"]=support.getElementsByTagName?function(tag,context){if(typeof context.getElementsByTagName!==strundefined){return context.getElementsByTagName(tag)}}:function(tag,context){var elem,tmp=[],i=0,results=context.getElementsByTagName(tag);if(tag==="*"){while(elem=results[i++]){if(elem.nodeType===1){tmp.push(elem)}}return tmp}return results};Expr.find["CLASS"]=support.getElementsByClassName&&function(className,context){if(typeof context.getElementsByClassName!==strundefined&&documentIsHTML){return context.getElementsByClassName(className)}};rbuggyMatches=[];rbuggyQSA=[];if(support.qsa=rnative.test(doc.querySelectorAll)){assert(function(div){div.innerHTML="";if(div.querySelectorAll("[t^='']").length){rbuggyQSA.push("[*^$]="+whitespace+"*(?:''|\"\")")}if(!div.querySelectorAll("[selected]").length){rbuggyQSA.push("\\["+whitespace+"*(?:value|"+booleans+")")}if(!div.querySelectorAll(":checked").length){rbuggyQSA.push(":checked")}});assert(function(div){var input=doc.createElement("input");input.setAttribute("type","hidden");div.appendChild(input).setAttribute("name","D");if(div.querySelectorAll("[name=d]").length){rbuggyQSA.push("name"+whitespace+"*[*^$|!~]?=")}if(!div.querySelectorAll(":enabled").length){rbuggyQSA.push(":enabled",":disabled")}div.querySelectorAll("*,:x");rbuggyQSA.push(",.*:")})}if(support.matchesSelector=rnative.test(matches=docElem.webkitMatchesSelector||docElem.mozMatchesSelector||docElem.oMatchesSelector||docElem.msMatchesSelector)){assert(function(div){support.disconnectedMatch=matches.call(div,"div");matches.call(div,"[s!='']:x");rbuggyMatches.push("!=",pseudos)})}rbuggyQSA=rbuggyQSA.length&&new RegExp(rbuggyQSA.join("|"));rbuggyMatches=rbuggyMatches.length&&new RegExp(rbuggyMatches.join("|"));hasCompare=rnative.test(docElem.compareDocumentPosition);contains=hasCompare||rnative.test(docElem.contains)?function(a,b){var adown=a.nodeType===9?a.documentElement:a,bup=b&&b.parentNode;return a===bup||!!(bup&&bup.nodeType===1&&(adown.contains?adown.contains(bup):a.compareDocumentPosition&&a.compareDocumentPosition(bup)&16))}:function(a,b){if(b){while(b=b.parentNode){if(b===a){return true}}}return false};sortOrder=hasCompare?function(a,b){if(a===b){hasDuplicate=true;return 0}var compare=!a.compareDocumentPosition-!b.compareDocumentPosition;if(compare){return compare}compare=(a.ownerDocument||a)===(b.ownerDocument||b)?a.compareDocumentPosition(b):1;if(compare&1||!support.sortDetached&&b.compareDocumentPosition(a)===compare){if(a===doc||a.ownerDocument===preferredDoc&&contains(preferredDoc,a)){return-1}if(b===doc||b.ownerDocument===preferredDoc&&contains(preferredDoc,b)){return 1}return sortInput?indexOf.call(sortInput,a)-indexOf.call(sortInput,b):0}return compare&4?-1:1}:function(a,b){if(a===b){hasDuplicate=true;return 0}var cur,i=0,aup=a.parentNode,bup=b.parentNode,ap=[a],bp=[b];if(!aup||!bup){return a===doc?-1:b===doc?1:aup?-1:bup?1:sortInput?indexOf.call(sortInput,a)-indexOf.call(sortInput,b):0}else if(aup===bup){return siblingCheck(a,b)}cur=a;while(cur=cur.parentNode){ap.unshift(cur)}cur=b;while(cur=cur.parentNode){bp.unshift(cur)}while(ap[i]===bp[i]){i++}return i?siblingCheck(ap[i],bp[i]):ap[i]===preferredDoc?-1:bp[i]===preferredDoc?1:0};return doc};Sizzle.matches=function(expr,elements){return Sizzle(expr,null,null,elements)};Sizzle.matchesSelector=function(elem,expr){if((elem.ownerDocument||elem)!==document){setDocument(elem)}expr=expr.replace(rattributeQuotes,"='$1']");if(support.matchesSelector&&documentIsHTML&&(!rbuggyMatches||!rbuggyMatches.test(expr))&&(!rbuggyQSA||!rbuggyQSA.test(expr))){try{var ret=matches.call(elem,expr);if(ret||support.disconnectedMatch||elem.document&&elem.document.nodeType!==11){return ret}}catch(e){}}return Sizzle(expr,document,null,[elem]).length>0};Sizzle.contains=function(context,elem){if((context.ownerDocument||context)!==document){setDocument(context)}return contains(context,elem)};Sizzle.attr=function(elem,name){if((elem.ownerDocument||elem)!==document){setDocument(elem)}var fn=Expr.attrHandle[name.toLowerCase()],val=fn&&hasOwn.call(Expr.attrHandle,name.toLowerCase())?fn(elem,name,!documentIsHTML):undefined;return val!==undefined?val:support.attributes||!documentIsHTML?elem.getAttribute(name):(val=elem.getAttributeNode(name))&&val.specified?val.value:null};Sizzle.error=function(msg){throw new Error("Syntax error, unrecognized expression: "+msg)};Sizzle.uniqueSort=function(results){var elem,duplicates=[],j=0,i=0;hasDuplicate=!support.detectDuplicates;sortInput=!support.sortStable&&results.slice(0);results.sort(sortOrder);if(hasDuplicate){while(elem=results[i++]){if(elem===results[i]){j=duplicates.push(i)}}while(j--){results.splice(duplicates[j],1)}}sortInput=null;return results};getText=Sizzle.getText=function(elem){var node,ret="",i=0,nodeType=elem.nodeType;if(!nodeType){while(node=elem[i++]){ret+=getText(node)}}else if(nodeType===1||nodeType===9||nodeType===11){if(typeof elem.textContent==="string"){return elem.textContent}else{for(elem=elem.firstChild;elem;elem=elem.nextSibling){ret+=getText(elem)}}}else if(nodeType===3||nodeType===4){return elem.nodeValue}return ret};Expr=Sizzle.selectors={cacheLength:50,createPseudo:markFunction,match:matchExpr,attrHandle:{},find:{},relative:{">":{dir:"parentNode",first:true}," ":{dir:"parentNode"},"+":{dir:"previousSibling",first:true},"~":{dir:"previousSibling"}},preFilter:{ATTR:function(match){match[1]=match[1].replace(runescape,funescape);match[3]=(match[4]||match[5]||"").replace(runescape,funescape);if(match[2]==="~="){match[3]=" "+match[3]+" "}return match.slice(0,4)},CHILD:function(match){match[1]=match[1].toLowerCase();if(match[1].slice(0,3)==="nth"){if(!match[3]){Sizzle.error(match[0])}match[4]=+(match[4]?match[5]+(match[6]||1):2*(match[3]==="even"||match[3]==="odd"));match[5]=+(match[7]+match[8]||match[3]==="odd")}else if(match[3]){Sizzle.error(match[0])}return match},PSEUDO:function(match){var excess,unquoted=!match[5]&&match[2];if(matchExpr["CHILD"].test(match[0])){return null}if(match[3]&&match[4]!==undefined){match[2]=match[4]}else if(unquoted&&rpseudo.test(unquoted)&&(excess=tokenize(unquoted,true))&&(excess=unquoted.indexOf(")",unquoted.length-excess)-unquoted.length)){match[0]=match[0].slice(0,excess);match[2]=unquoted.slice(0,excess)}return match.slice(0,3)}},filter:{TAG:function(nodeNameSelector){var nodeName=nodeNameSelector.replace(runescape,funescape).toLowerCase();return nodeNameSelector==="*"?function(){return true}:function(elem){return elem.nodeName&&elem.nodeName.toLowerCase()===nodeName}},CLASS:function(className){var pattern=classCache[className+" "];return pattern||(pattern=new RegExp("(^|"+whitespace+")"+className+"("+whitespace+"|$)"))&&classCache(className,function(elem){return pattern.test(typeof elem.className==="string"&&elem.className||typeof elem.getAttribute!==strundefined&&elem.getAttribute("class")||"")})},ATTR:function(name,operator,check){return function(elem){var result=Sizzle.attr(elem,name);if(result==null){return operator==="!="}if(!operator){return true}result+="";return operator==="="?result===check:operator==="!="?result!==check:operator==="^="?check&&result.indexOf(check)===0:operator==="*="?check&&result.indexOf(check)>-1:operator==="$="?check&&result.slice(-check.length)===check:operator==="~="?(" "+result+" ").indexOf(check)>-1:operator==="|="?result===check||result.slice(0,check.length+1)===check+"-":false}},CHILD:function(type,what,argument,first,last){var simple=type.slice(0,3)!=="nth",forward=type.slice(-4)!=="last",ofType=what==="of-type";return first===1&&last===0?function(elem){return!!elem.parentNode}:function(elem,context,xml){var cache,outerCache,node,diff,nodeIndex,start,dir=simple!==forward?"nextSibling":"previousSibling",parent=elem.parentNode,name=ofType&&elem.nodeName.toLowerCase(),useCache=!xml&&!ofType;if(parent){if(simple){while(dir){node=elem;while(node=node[dir]){if(ofType?node.nodeName.toLowerCase()===name:node.nodeType===1){return false}}start=dir=type==="only"&&!start&&"nextSibling"}return true}start=[forward?parent.firstChild:parent.lastChild];if(forward&&useCache){outerCache=parent[expando]||(parent[expando]={});cache=outerCache[type]||[];nodeIndex=cache[0]===dirruns&&cache[1];diff=cache[0]===dirruns&&cache[2];node=nodeIndex&&parent.childNodes[nodeIndex];while(node=++nodeIndex&&node&&node[dir]||(diff=nodeIndex=0)||start.pop()){if(node.nodeType===1&&++diff&&node===elem){outerCache[type]=[dirruns,nodeIndex,diff];break}}}else if(useCache&&(cache=(elem[expando]||(elem[expando]={}))[type])&&cache[0]===dirruns){diff=cache[1]}else{while(node=++nodeIndex&&node&&node[dir]||(diff=nodeIndex=0)||start.pop()){if((ofType?node.nodeName.toLowerCase()===name:node.nodeType===1)&&++diff){if(useCache){(node[expando]||(node[expando]={}))[type]=[dirruns,diff]}if(node===elem){break}}}}diff-=last;return diff===first||diff%first===0&&diff/first>=0}}},PSEUDO:function(pseudo,argument){var args,fn=Expr.pseudos[pseudo]||Expr.setFilters[pseudo.toLowerCase()]||Sizzle.error("unsupported pseudo: "+pseudo);if(fn[expando]){return fn(argument)}if(fn.length>1){args=[pseudo,pseudo,"",argument];return Expr.setFilters.hasOwnProperty(pseudo.toLowerCase())?markFunction(function(seed,matches){var idx,matched=fn(seed,argument),i=matched.length;while(i--){idx=indexOf.call(seed,matched[i]);seed[idx]=!(matches[idx]=matched[i])}}):function(elem){return fn(elem,0,args)}}return fn}},pseudos:{not:markFunction(function(selector){var input=[],results=[],matcher=compile(selector.replace(rtrim,"$1"));return matcher[expando]?markFunction(function(seed,matches,context,xml){var elem,unmatched=matcher(seed,null,xml,[]),i=seed.length;while(i--){if(elem=unmatched[i]){seed[i]=!(matches[i]=elem)}}}):function(elem,context,xml){input[0]=elem;matcher(input,null,xml,results);return!results.pop()}}),has:markFunction(function(selector){return function(elem){return Sizzle(selector,elem).length>0}}),contains:markFunction(function(text){return function(elem){return(elem.textContent||elem.innerText||getText(elem)).indexOf(text)>-1}}),lang:markFunction(function(lang){if(!ridentifier.test(lang||"")){Sizzle.error("unsupported lang: "+lang)}lang=lang.replace(runescape,funescape).toLowerCase();return function(elem){var elemLang;do{if(elemLang=documentIsHTML?elem.lang:elem.getAttribute("xml:lang")||elem.getAttribute("lang")){elemLang=elemLang.toLowerCase();return elemLang===lang||elemLang.indexOf(lang+"-")===0}}while((elem=elem.parentNode)&&elem.nodeType===1);return false}}),target:function(elem){var hash=window.location&&window.location.hash;return hash&&hash.slice(1)===elem.id},root:function(elem){return elem===docElem},focus:function(elem){return elem===document.activeElement&&(!document.hasFocus||document.hasFocus())&&!!(elem.type||elem.href||~elem.tabIndex)},enabled:function(elem){return elem.disabled===false},disabled:function(elem){return elem.disabled===true},checked:function(elem){var nodeName=elem.nodeName.toLowerCase();return nodeName==="input"&&!!elem.checked||nodeName==="option"&&!!elem.selected},selected:function(elem){if(elem.parentNode){elem.parentNode.selectedIndex}return elem.selected===true},empty:function(elem){for(elem=elem.firstChild;elem;elem=elem.nextSibling){if(elem.nodeType<6){return false}}return true},parent:function(elem){return!Expr.pseudos["empty"](elem)},header:function(elem){return rheader.test(elem.nodeName)},input:function(elem){return rinputs.test(elem.nodeName)},button:function(elem){var name=elem.nodeName.toLowerCase();return name==="input"&&elem.type==="button"||name==="button"},text:function(elem){var attr;return elem.nodeName.toLowerCase()==="input"&&elem.type==="text"&&((attr=elem.getAttribute("type"))==null||attr.toLowerCase()==="text")},first:createPositionalPseudo(function(){return[0]}),last:createPositionalPseudo(function(matchIndexes,length){return[length-1]}),eq:createPositionalPseudo(function(matchIndexes,length,argument){return[argument<0?argument+length:argument]}),even:createPositionalPseudo(function(matchIndexes,length){var i=0;for(;i=0;){matchIndexes.push(i)}return matchIndexes}),gt:createPositionalPseudo(function(matchIndexes,length,argument){var i=argument<0?argument+length:argument;for(;++i1?function(elem,context,xml){var i=matchers.length;while(i--){if(!matchers[i](elem,context,xml)){return false}}return true}:matchers[0]}function multipleContexts(selector,contexts,results){var i=0,len=contexts.length;for(;i-1){seed[temp]=!(results[temp]=elem)}}}}else{matcherOut=condense(matcherOut===results?matcherOut.splice(preexisting,matcherOut.length):matcherOut);if(postFinder){postFinder(null,results,matcherOut,xml)}else{push.apply(results,matcherOut)}}})}function matcherFromTokens(tokens){var checkContext,matcher,j,len=tokens.length,leadingRelative=Expr.relative[tokens[0].type],implicitRelative=leadingRelative||Expr.relative[" "],i=leadingRelative?1:0,matchContext=addCombinator(function(elem){return elem===checkContext},implicitRelative,true),matchAnyContext=addCombinator(function(elem){return indexOf.call(checkContext,elem)>-1},implicitRelative,true),matchers=[function(elem,context,xml){return!leadingRelative&&(xml||context!==outermostContext)||((checkContext=context).nodeType?matchContext(elem,context,xml):matchAnyContext(elem,context,xml))}];for(;i1&&elementMatcher(matchers),i>1&&toSelector(tokens.slice(0,i-1).concat({value:tokens[i-2].type===" "?"*":""})).replace(rtrim,"$1"),matcher,i0,byElement=elementMatchers.length>0,superMatcher=function(seed,context,xml,results,outermost){var elem,j,matcher,matchedCount=0,i="0",unmatched=seed&&[],setMatched=[],contextBackup=outermostContext,elems=seed||byElement&&Expr.find["TAG"]("*",outermost),dirrunsUnique=dirruns+=contextBackup==null?1:Math.random()||.1,len=elems.length;if(outermost){outermostContext=context!==document&&context}for(;i!==len&&(elem=elems[i])!=null;i++){if(byElement&&elem){j=0;while(matcher=elementMatchers[j++]){if(matcher(elem,context,xml)){results.push(elem);break}}if(outermost){dirruns=dirrunsUnique}}if(bySet){if(elem=!matcher&&elem){matchedCount--}if(seed){unmatched.push(elem)}}}matchedCount+=i;if(bySet&&i!==matchedCount){j=0;while(matcher=setMatchers[j++]){matcher(unmatched,setMatched,context,xml)}if(seed){if(matchedCount>0){while(i--){if(!(unmatched[i]||setMatched[i])){setMatched[i]=pop.call(results)}}}setMatched=condense(setMatched)}push.apply(results,setMatched);if(outermost&&!seed&&setMatched.length>0&&matchedCount+setMatchers.length>1){Sizzle.uniqueSort(results)}}if(outermost){dirruns=dirrunsUnique;outermostContext=contextBackup}return unmatched};return bySet?markFunction(superMatcher):superMatcher}compile=Sizzle.compile=function(selector,match){var i,setMatchers=[],elementMatchers=[],cached=compilerCache[selector+" "];if(!cached){if(!match){match=tokenize(selector)}i=match.length;while(i--){cached=matcherFromTokens(match[i]);if(cached[expando]){setMatchers.push(cached)}else{elementMatchers.push(cached)}}cached=compilerCache(selector,matcherFromGroupMatchers(elementMatchers,setMatchers));cached.selector=selector}return cached};select=Sizzle.select=function(selector,context,results,seed){var i,tokens,token,type,find,compiled=typeof selector==="function"&&selector,match=!seed&&tokenize(selector=compiled.selector||selector);results=results||[];if(match.length===1){tokens=match[0]=match[0].slice(0);if(tokens.length>2&&(token=tokens[0]).type==="ID"&&support.getById&&context.nodeType===9&&documentIsHTML&&Expr.relative[tokens[1].type]){context=(Expr.find["ID"](token.matches[0].replace(runescape,funescape),context)||[])[0];if(!context){return results}else if(compiled){context=context.parentNode}selector=selector.slice(tokens.shift().value.length)}i=matchExpr["needsContext"].test(selector)?0:tokens.length;while(i--){token=tokens[i];if(Expr.relative[type=token.type]){break}if(find=Expr.find[type]){if(seed=find(token.matches[0].replace(runescape,funescape),rsibling.test(tokens[0].type)&&testContext(context.parentNode)||context)){tokens.splice(i,1);selector=seed.length&&toSelector(tokens);if(!selector){push.apply(results,seed);return results}break}}}}(compiled||compile(selector,match))(seed,context,!documentIsHTML,results,rsibling.test(selector)&&testContext(context.parentNode)||context);return results};support.sortStable=expando.split("").sort(sortOrder).join("")===expando;support.detectDuplicates=!!hasDuplicate;setDocument();support.sortDetached=assert(function(div1){return div1.compareDocumentPosition(document.createElement("div"))&1});if(!assert(function(div){div.innerHTML="";return div.firstChild.getAttribute("href")==="#"})){addHandle("type|href|height|width",function(elem,name,isXML){if(!isXML){return elem.getAttribute(name,name.toLowerCase()==="type"?1:2)}})}if(!support.attributes||!assert(function(div){div.innerHTML="";div.firstChild.setAttribute("value","");return div.firstChild.getAttribute("value")===""})){addHandle("value",function(elem,name,isXML){if(!isXML&&elem.nodeName.toLowerCase()==="input"){return elem.defaultValue}})}if(!assert(function(div){return div.getAttribute("disabled")==null})){addHandle(booleans,function(elem,name,isXML){var val;if(!isXML){return elem[name]===true?name.toLowerCase():(val=elem.getAttributeNode(name))&&val.specified?val.value:null}})}if(typeof define==="function"&&define.amd){define(function(){return Sizzle})}else if(typeof module!=="undefined"&&module.exports){module.exports=Sizzle}else{window.Sizzle=Sizzle}})(window);(function(engine){var extendElements=Prototype.Selector.extendElements;function select(selector,scope){return extendElements(engine(selector,scope||document))}function match(element,selector){return engine.matches(selector,[element]).length==1}Prototype.Selector.engine=engine;Prototype.Selector.select=select;Prototype.Selector.match=match})(Sizzle);window.Sizzle=Prototype._original_property;delete Prototype._original_property;var Form={reset:function(form){form=$(form);form.reset();return form},serializeElements:function(elements,options){if(typeof options!="object")options={hash:!!options};else if(Object.isUndefined(options.hash))options.hash=true;var key,value,submitted=false,submit=options.submit,accumulator,initial;if(options.hash){initial={};accumulator=function(result,key,value){if(key in result){if(!Object.isArray(result[key]))result[key]=[result[key]];result[key]=result[key].concat(value)}else result[key]=value;return result}}else{initial="";accumulator=function(result,key,values){if(!Object.isArray(values)){values=[values]}if(!values.length){return result}var encodedKey=encodeURIComponent(key).gsub(/%20/,"+");return result+(result?"&":"")+values.map(function(value){value=value.gsub(/(\r)?\n/,"\r\n");value=encodeURIComponent(value);value=value.gsub(/%20/,"+");return encodedKey+"="+value}).join("&")}}return elements.inject(initial,function(result,element){if(!element.disabled&&element.name){key=element.name;value=$(element).getValue();if(value!=null&&element.type!="file"&&(element.type!="submit"||!submitted&&submit!==false&&(!submit||key==submit)&&(submitted=true))){result=accumulator(result,key,value)}}return result})}};Form.Methods={serialize:function(form,options){return Form.serializeElements(Form.getElements(form),options)},getElements:function(form){var elements=$(form).getElementsByTagName("*");var element,results=[],serializers=Form.Element.Serializers;for(var i=0;element=elements[i];i++){if(serializers[element.tagName.toLowerCase()])results.push(Element.extend(element))}return results},getInputs:function(form,typeName,name){form=$(form);var inputs=form.getElementsByTagName("input");if(!typeName&&!name)return $A(inputs).map(Element.extend);for(var i=0,matchingInputs=[],length=inputs.length;i=0}).sortBy(function(element){return element.tabIndex}).first();return firstByIndex?firstByIndex:elements.find(function(element){return/^(?:input|select|textarea)$/i.test(element.tagName)})},focusFirstElement:function(form){form=$(form);var element=form.findFirstElement();if(element)element.activate();return form},request:function(form,options){form=$(form),options=Object.clone(options||{});var params=options.parameters,action=form.readAttribute("action")||"";if(action.blank())action=window.location.href;options.parameters=form.serialize(true);if(params){if(Object.isString(params))params=params.toQueryParams();Object.extend(options.parameters,params)}if(form.hasAttribute("method")&&!options.method)options.method=form.method;return new Ajax.Request(action,options)}};Form.Element={focus:function(element){$(element).focus();return element},select:function(element){$(element).select();return element}};Form.Element.Methods={serialize:function(element){element=$(element);if(!element.disabled&&element.name){var value=element.getValue();if(value!=undefined){var pair={};pair[element.name]=value;return Object.toQueryString(pair)}}return""},getValue:function(element){element=$(element);var method=element.tagName.toLowerCase();return Form.Element.Serializers[method](element)},setValue:function(element,value){element=$(element);var method=element.tagName.toLowerCase();Form.Element.Serializers[method](element,value);return element},clear:function(element){$(element).value="";return element},present:function(element){return $(element).value!=""},activate:function(element){element=$(element);try{element.focus();if(element.select&&(element.tagName.toLowerCase()!="input"||!/^(?:button|reset|submit)$/i.test(element.type)))element.select()}catch(e){}return element},disable:function(element){element=$(element);element.disabled=true;return element},enable:function(element){element=$(element);element.disabled=false;return element}};var Field=Form.Element;var $F=Form.Element.Methods.getValue;Form.Element.Serializers=function(){function input(element,value){switch(element.type.toLowerCase()){case"checkbox":case"radio":return inputSelector(element,value);default:return valueSelector(element,value)}}function inputSelector(element,value){if(Object.isUndefined(value))return element.checked?element.value:null;else element.checked=!!value}function valueSelector(element,value){if(Object.isUndefined(value))return element.value;else element.value=value}function select(element,value){if(Object.isUndefined(value))return(element.type==="select-one"?selectOne:selectMany)(element);var opt,currentValue,single=!Object.isArray(value);for(var i=0,length=element.length;i=0?optionValue(element.options[index]):null}function selectMany(element){var values,length=element.length;if(!length)return null;for(var i=0,values=[];i=this.offset[1]&&y=this.offset[0]&&x=this.offset[1]&&this.ycomp=this.offset[0]&&this.xcomp0})._each(iterator,context)},set:function(className){this.element.className=className},add:function(classNameToAdd){if(this.include(classNameToAdd))return;this.set($A(this).concat(classNameToAdd).join(" "))},remove:function(classNameToRemove){if(!this.include(classNameToRemove))return;this.set($A(this).without(classNameToRemove).join(" "))},toString:function(){return $A(this).join(" ")}};Object.extend(Element.ClassNames.prototype,Enumerable);(function(){window.Selector=Class.create({initialize:function(expression){this.expression=expression.strip()},findElements:function(rootElement){return Prototype.Selector.select(this.expression,rootElement)},match:function(element){return Prototype.Selector.match(element,this.expression)},toString:function(){return this.expression},inspect:function(){return"#"}});Object.extend(Selector,{matchElements:function(elements,expression){var match=Prototype.Selector.match,results=[];for(var i=0,length=elements.length;i
The Career Fair Tour
We will give you the advice of how to efficiently go around the exhibiting booths. If it is your first time to attend the Go Global Career Fair, please take a look!
Step 1Check-in
When arriving to the venue, please show your Peatix Ticket or the Daijob Resume.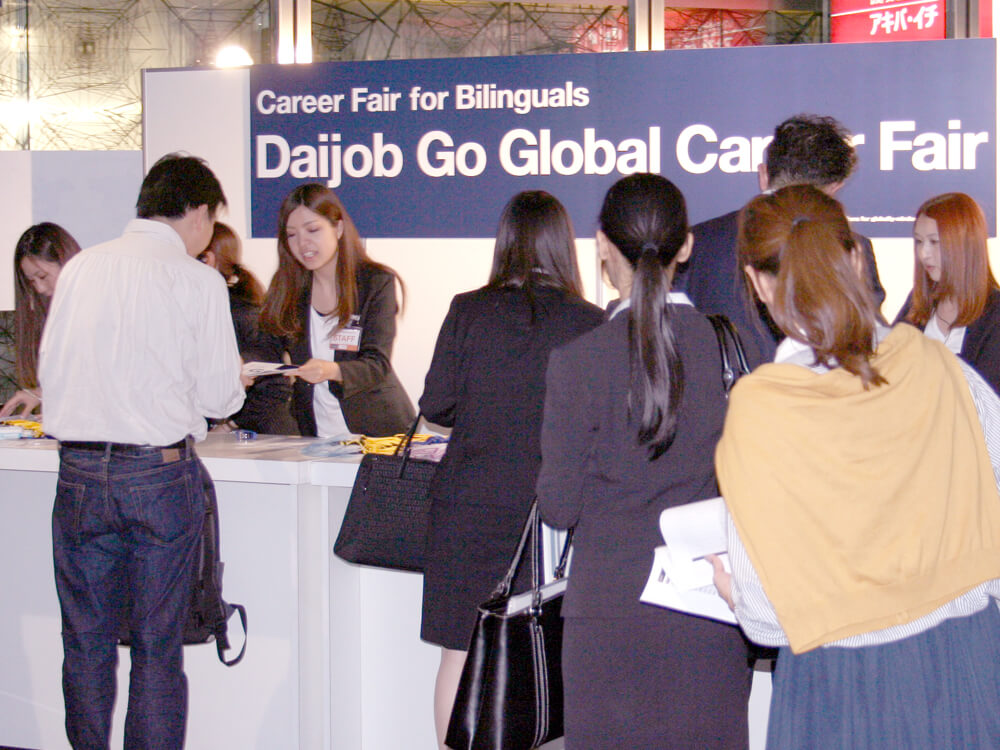 By showing the Peatix Ticket QR code, entering the venue will be much easier.
> Get your Peatix Ticket from here!
※It is not a requirement to printout the ticket.
※The latest Peatix tickets will be published approximately 1 month before the Career Fair.



Regarding the Daijob Resume, please construct one from your "My Page" and print it out.
> To create click here
※If you forget to bring your Daijob Resume, please sign up for a Peatix Ticket or complete a handwritten Daijob resume before entering the venue.



Once you are done checking-in, please take ONE Job Sticker.
Take the sticker which describes your most recent profession/experience accurately.
It is a chance for you to standout to companies that are looking for professionals related to the sticker you have chosen.

Types of Job Stickers
① Hospitality ②IT Engineer ③Sales/Marketing ④Administrator ⑤Creative ⑥Specialist ⑦Skill Up
<Please note>
We recommend you to print out at least 10 copies of your resume. Both the Daijob Resume and your personal resume will be eligible.
We will have printers available at the venue. However, there is a high chance you will be waiting in line. We definitely recommend for you to bring your printed resume.
Step 2Visit Company Booth
Visit the company booths as you please!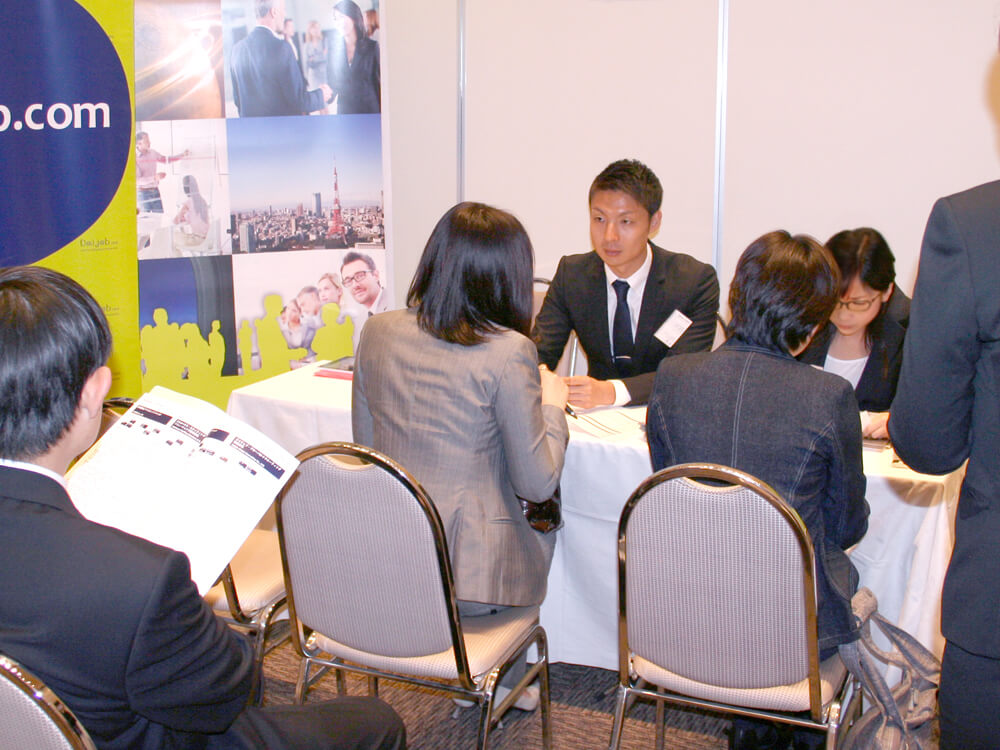 When visiting the booth, submit your Daijob Format resume and speak with the HR Representative.
The Career Fair is usually not for interviews. However, some companies may conduct interviews so please have your resume ready. Ask questions that may help out before heading in to the actual employment process.
Examples include, the atmosphere of the company, employees, and important information about the procedure of employment.
This is a chance to gather information about the company you are interested in from an employee currently working. Take advantage of this opportunity!
Step 3Take Advantage of the Services Provided
Not just company booths, also providing supportive services for career-change!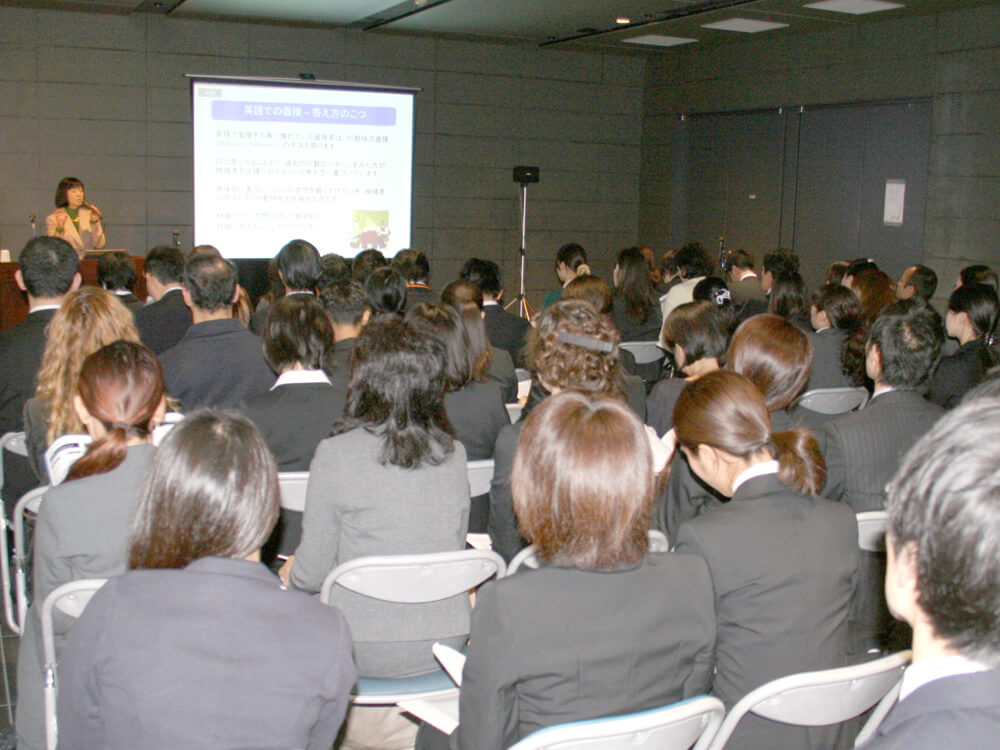 ■Seminar
Free seminars on career building and job hunting for bilinguals. The seminars are in Japanese language.
■Visa Consultation
Many foreigners looking to work in Japan are worried about their visa situation.
Just like our previous fairs, we will have a specialist in attendance to provide consultation.